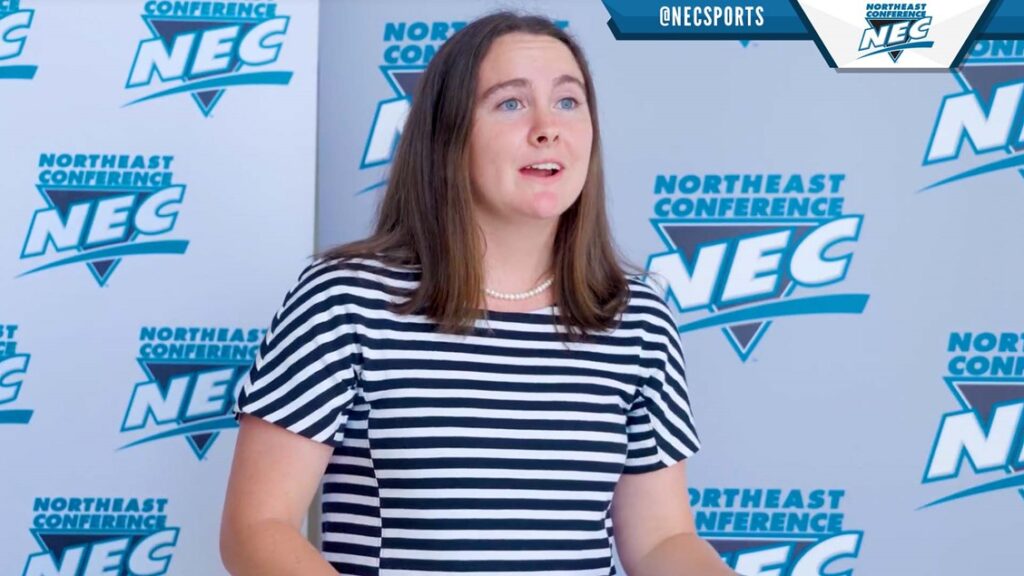 Wagner's Ally Meehan Appointed as NEC's NCAA DI SAAC Representative
Somerset, NJ — Wagner women's triathlete, and former North Allegheny cross country athlete and state champion, Ally Meehan has been appointed to serve as the Northeast Conference's representative to the NCAA Division I Student-Athlete Advisory Committee (SAAC).
Meehan, who enters her senior season at Wagner in 2022-23, is one of just 32 student-athletes on the NCAA Division I SAAC, which reports directly to the NCAA Division I Council. She will serve as the league's representative for the next two academic years, through 2023-24.
"I'm just excited to make more of an impact," said Meehan, who emphasized that student-athlete mental health is a topic that she is heavily involved in and passionate about. "To be able to bring that to life is something that I am really excited to do."
Meehan got her start as a SAAC member at Wagner as a first-year student and was named the NEC's Co-Chair as a junior in 2021-22.
"Ally has been an active and dedicated member of Wagner's SAAC for the last three years," commented Nicole Gaudenzi, Assistant Athletic Director for Student-Athlete Services. "She is someone who provides our group with strong leadership, thoughtful insight and great ideas for initiatives to run."
Currently a Psychology and Sports Administration double major at Wagner, Meehan looks to continue gain experience in the field of sport psychology. The Pittsburgh, PA native has competed in seven triathlons for the Seahawks, with her best finish in 2021 coming at the NCAA National/Regional Qualifier held in St. George, UT. Meehan was named a College Triathlon Coaches Association (CTCA) Scholar All-American as a freshman in 2019-20.
"This is an incredible accomplishment and opportunity for Ally to be appointed to the NCAA Division I SAAC," said Katie Wassel, Associate Athletic Director and Senior Woman Administrator at Wagner. "Ally is passionate and enthusiastic about triathlon and the student-athlete experience at Wagner and I have no doubt she will bring those same traits with her to this committee."
Both Wassel and Gaudenzi added that Meehan will be a key representative for the NEC at the NCAA Division I SAAC.
"Ally is a strong voice for so many student-athletes and will continue to provide leadership and passion as she enters this new chapter being on this committee," Wassel added.
Gaudenzi commented that the skills that Ally was able to strengthen during her time at Wagner so far will translate seamlessly to the NCAA Division I SAAC.
The Division I National SAAC is committed to being proactive in its service and representation of all 160,000 Division I student-athletes.
The mission of the NCAA Division I SAAC is to enhance the total student-athlete experience by protecting student- athlete well-being, fostering a positive student-athlete image and inclusive student-athlete environment, and promoting student-athlete engagement at the national, conference and local levels.
(Press release, photo and video courtesy of Wagner College Athletics).