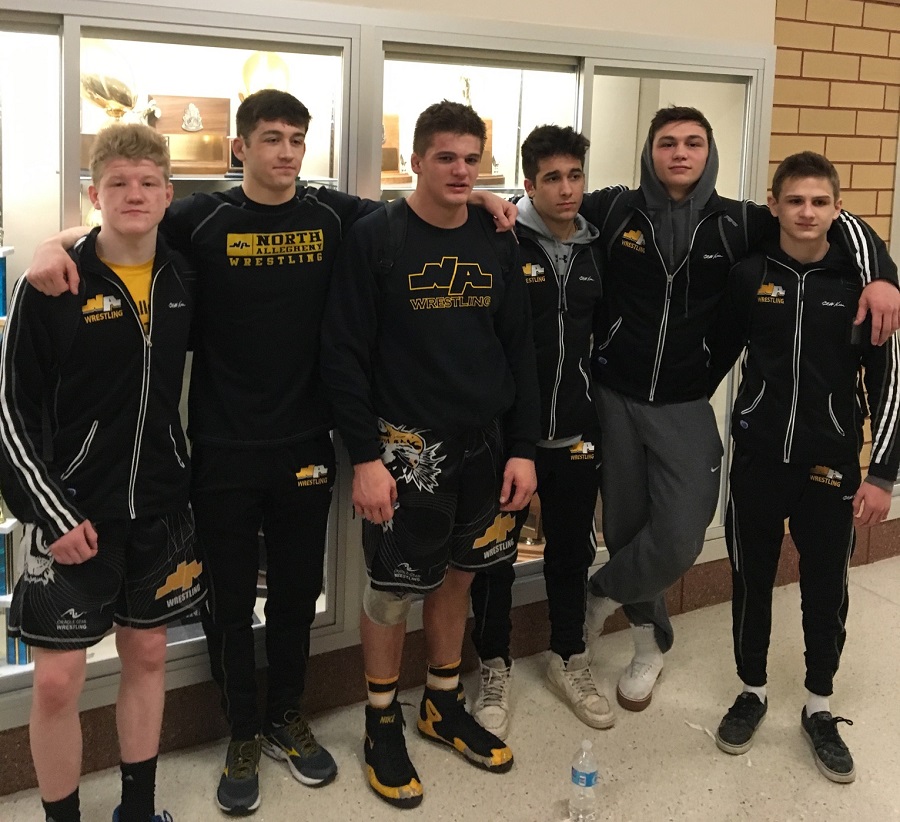 Woodley Wins Gold, Six Tigers Qualify For States
North Allegheny junior Jake Woodley won gold at the WPIAL individual wrestling tournament on Saturday and five other Tigers qualified for the PIAA tournament, including junior Luke Landefeld who won bronze at 126 pounds and sophomore Francis Duggan who took third place at 195 pounds. It was a tremendous performance overall by the NA grapplers who tallied a team score of 102 points, second behind only Belle Vernon who finished with a team score of 135.5. The Tigers also tied Belle Vernon and Waynesburg with the most wrestlers going to states with six.
On his way to a WPIAL title at 182 pounds, Woodley opened day two of the tournament with a semifinal win by fall over James Zeremenko of Canon-McMillan at 1:13 of the first period. In the championship bout, Woodley easily disposed of Milton Kobaly of Belle Vernon by a 10-4 decision.
Landefeld's day at 126 pounds began with a loss to Ethan McCoy of Latrobe in the semifinals, but the NA junior bounced back with a consolation win over Belle Vernon's Tyler Seliga by a 6-1 decision. In the third place bout, Landefeld topped Waynesburg's Cole Rush for the second time in the tournament by a 3-1 decision. Landefeld will be making his second appearance at Hershey, previously reaching states as a freshman two years ago.
Like Landefeld, Duggan began Day Two with a semifinal loss, but earned an 8-3 decision over Ron D'Amico of Shaler in the consolations to advance to the third place bout. Duggan garnered bronze with a 9-3 decision over Zach Carcy of Fox Chapel. Duggan is making his second straight trip to states, also qualifying last year while at Cumberland Valley high school.
Other Tigers who qualified for states include Jacob Downing (106), Jake Hinkson (138) and A.J. Boeh (145) who all reached the third place bout in their respective weight classes. Downing had to take the long route to the third place bout at 106 pounds, impressively winning three consolation matches before falling to Jacob Dunlop of Belle Vernon by a narrow 1-0 decision in the third place match.
Hinkson punched his ticket to Hershey for the second consecutive year by finishing fourth at 138 pounds. Despite losing in the semifinals to Shaun Wilson of Waynesburg, Hinkson topped Brock Godzin of Belle Vernon by a 4-0 decision in the consolations to reach the third place bout. Similarly to Hinkson, Boeh dropped his semifinal bout at 145 pounds but bounced back with a consolation win over Keagan Lawson of North Hills by a 5-0 decision.
See below for a full listing of NA wrestling results on Day Two of the WPIAL individual tournament. For a complete look at all brackets from the tournament, click here.
The six North Allegheny representatives at states will prepare for the PIAA individual tournament which begins on Thursday morning at the Giant Center in Hershey.
WPIAL Class AAA Wrestling Championships - Day Two
Saturday, March 5 at Penn Hills High School
| Weight | Wrestlers | Score |
| --- | --- | --- |
| 106 - 2nd Consolation | Jacob Downing (NA) dec. Tony DiNinno (Plum) | 3-0 |
| 3rd Consolation | Jacob Downing (NA) maj. dec. Zachary Macy (Chartiers Valley) | 15-2 |
| 4th Consolation | Jacob Downing (NA) pinned Darren Miller (Kiski Area) | 4:36 |
| 3rd Place | Jacob Dunlop (Belle Vernon) dec. Jacob Downing (NA) | 1-0 |
| | | |
| 126 - Semifinals | Ethan McCoy (Latrobe) dec. Luke Landefeld (NA) | 10-3 |
| 4th Consolation | Luke Landefeld (NA) dec. Tyler Seliga (Belle Vernon) | 6-1 |
| 3rd Place | Luke Landefeld (NA) dec. Cole Rush (Waynesburg) | 3-1 |
| | | |
| 132 - 2nd Consolation | Zach Stedeford (NA) dec. Tim Hritsko (Canon-McMillan) | 1-0 |
| 3rd Consolation | Tommy Zummo (Plum) dec. Zach Stedeford (NA) | 2-0 |
| | | |
| 138 - Semifinals | Shaun Wilson (Waynesburg) dec. Jake Hinkson (NA) | 3-1 |
| 4th Consolation | Jake Hinkson (NA) dec. Brock Godzin (Belle Vernon) | 4-0 |
| 3rd Place | Doug Gudenburr (Ringgold) dec. Jake Hinkson (NA) | 6-0 |
| | | |
| 145 - Semifinals | Cameron Coy (Penn-Trafford) pinned A.J. Boeh (NA) | 1:38 |
| 4th Consolation | A.J. Boeh (NA) dec. Keagan Lawson (North Hills) | 5-0 |
| 3rd Place | Ryan Krause (Franklin Regional) dec. A.J. Boeh (NA) | 4-0 |
| | | |
| 160 - Semifinals | Mitchell Hartman (Belle Vernon) dec. Sean Hoover (NA) | 3-2 |
| 4th Consolation | Kevin Holman (Ambridge) dec. Sean Hoover (NA) | 3-1 |
| | | |
| 182 - Semifinals | Jake Woodley (NA) pinned James Zeremenko (Canon-McMIllan) | 1:13 |
| Championship | Jake Woodley (NA) dec. Milton Kobaly (Belle Vernon) | 10-4 |
| | | |
| 195 - Semifinals | Eli Grape (Upper St. Clair) dec. Francis Duggan (NA) | 3-2 |
| 4th Consolation | Francis Duggan (NA) dec. Ron D'Amico (Shaler) | 8-3 |
| 3rd Place | Francis Duggan (NA) dec. Zach Carcy (Fox Chapel) | 9-3 |