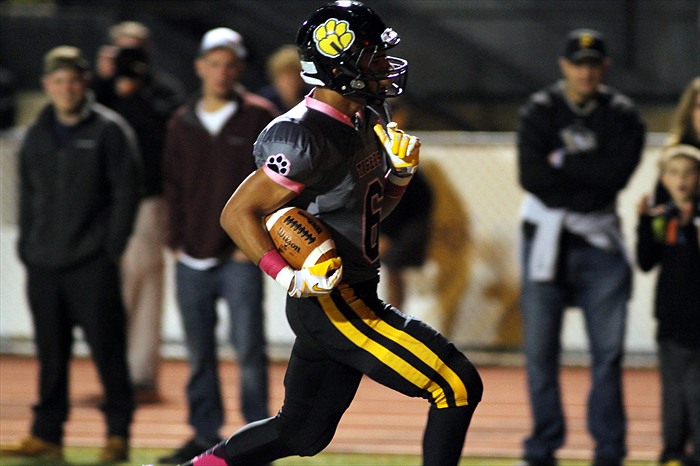 Zeise's Four Touchdowns Leads NA Over Shaler, 56-20
Fittingly on senior night, North Allegheny senior receiver Elijah Zeise scored four touchdowns to lead the Tigers to a 56-20 victory over Shaler for a Northern Eight Conference win. On the Tigers first play from scrimmage, Zeise hauled in a 51-yard touchdown pass from junior quarterback Jeff Clemens to give NA a 7-0 lead. Shaler answered on their next possession as quarterback Josh Crawford tossed a quick slant to Zach Carney who raced 71-yards for a score to tie the game, 7-7, with 8:21 to go in the first quarter. The tie didn't last long because on the ensuing kickoff, Zeise weaved through the Titans special teams for a 90-yard kickoff return touchdown giving NA a 14-7 advantage. 
After Zeise's kickoff return score, the game belonged to North Allegheny.  Ziese hit pay dirt two more times before the end of the half and Clemens threw three more touchdown passes, two to Zeise and another to tight-end Paul Blendinger, to give North Allegheny a 42-7 halftime lead.  The NA special teams chipped in with a blocked punt by Jon Sumpter who recovered the ball in the end zone for a touchdown.  It was the second time this season that Sumpter accomplished that same feat.
With the mercy rule invoked, the Tigers added rushing touchdowns by Sean Idowu and Nick Provenzano in the second half.  Shaler picked up an 18-yard touchdown run by Tim Nickel and a 3-yard touchdown pass by Crawford to Nick Fugh in the final 24 minutes of play.
Proving his complete recovery from an ailing thumb, Clemens connected on 8 of 10 pass attempts for 156 yards and four touchdowns.  Zeise hauled in four passes for 104 yards and three scores.  Along with his kickoff return for a touchdown, Zeise's terrific performance on senior night earned him Wright Automotive Player of the Game honors.
North Allegheny improves to 5-3 overall and 4-2 in the Northern Eight Conference, setting up a showdown next week for third place in the conference with the rival North Hills Indians. The winner could land a home game in the opening round of the WPIAL playoffs.  Shaler drops to 0-8 overall and 0-7 in conference play.  The Titans have lost 21 games in-a-row.
For look at team and individual stats, click here.