Andrew Rullan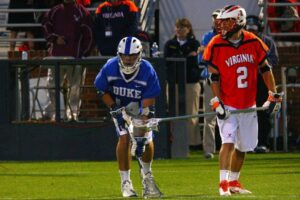 (Wexford, PA – Jan. 18, 2023) – Andrew Rullan was a three-year lacrosse letter winner, playing for his father and coach John Rullan. He also played two years on the Tiger football team. Andrew finished his NA lacrosse career with 98 goals and 35 assists for 133 points. His successful face off rate was an astonishing 75-percent.
He earned All-America honors as a senior and was voted the WPSLA Division I Player of the Year his senior season. He was named all WPSLA in 2005, 2006 & 2007. He was a two-time first team WPSLA Division I All-North midfield selection and led the Tigers to their first WPIAL championship game.
Andrew continued his college career at Duke University where he was a key member of the NCAA Division I National Championship in 2010 and semifinalist teams of 2009, 2011 and 2012. Andrew was also named as an ACC honor roll selection.
After his college days, Andrew went on to compete in the FILA (Federation of International Lacrosse World Championships) for Germany in 2014.