Ayden Owens-Delerme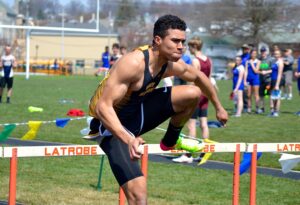 (Wexford – Jan. 1, 2023) – Owens will go down as having one of the most impressive track and field careers at North Allegheny. In his senior season, Owens led the Tigers to a gold medal in the WPIAL Championships and PIAA Championships. In March, Owens won a National Title and broke a state record in the 60-meter hurdles at the New Balance Indoor Track and Field Nationals. He set the record with a time of 7.59 seconds. Owens is also a two-time national champion in the decathlon.
He initially attended the University of Southern California where he was named Pac-12 Freshman of the Year. He then University of Michigan where he earned Big Ten Field Athlete of the Year. Subsequently, as a graduate student, Ayden represented the University of Arkansas for whom he won the 2022 NCAA championship decathlon. He was named the 2022 SEC Field Athlete of the Year.
Owens-Delerme graduated with a BS Biomedical Engineering from the University of Michigan in 2021 and anticipates graduation from the University of Arkansas Walton School of Business MBA program.[8]
Owens-Delerme is a five-time NCAA Division 1 All-American, a two-time NCAA Champion, a one-time Big Ten Conference Champion, a one-time Pac-12 Conference and 15-time All-Conference finalist.