Caroline Wrigley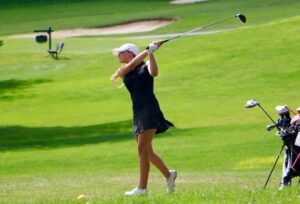 (Wexford, PA – Jan. 3, 2023) – Caroline Wrigley helped North Allegheny win three team state titles and also was the first female golfer to claim a WPIAL three-peat as the individual champion in the past thirty two years. She earned two medals in the PIAA individual finals her junior and senior years, winning the gold medal her senior year by seven strokes.
In her senior year, Caroline was the top-ranked player in Pennsylvania in 2018 and ranked fifty ninth nationally.  She had six top-10 AJGA finishes, including a third-place finish at the Penn State AJGA, and tied for twenty fifth at the Junior PGA Championship in 2016.
Caroline played her first two years of college at Furman University. As a freshman at Furman, she ranked third on the Paladin team and eighth in the Southern Conference with a 74.1 stroke average. She transferred to and played for the University of Notre Dame since 2021.