Jake Herbert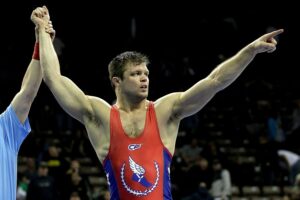 (Wexford, PA – Jan. 5, 2023) – Jake Herbert comes from a North Allegheny Wrestling family that included his father, brother and uncles as far back as the 1970's. During his four years at NA., Jake began his freshman year in the 135 lb. weight class and eventually ending as an undefeated state champion his senior year in the 171 lb. weight class. He accumulated a four-year record of 138 wins and 18 losses, which included an undefeated record of 35-0 his senior year.
Jake continued his college wrestling career at Northwestern University. He was a two-time NCAA champion, a three-time Big Ten Conference champion and a four-time NCAA All American. His record at Northwestern was 149-4. He won the 2009 Dan Hodge Trophy, an award for the best college wrestler in the nation, and the 2009 Big Ten Athlete of the Year.
Jake continued his wrestling career after college on the international level, competing in and winning various events. He represented the U.S. Olympic team in the 84 kg. competition at the 2012 London Olympics.