Lindsay Holcroft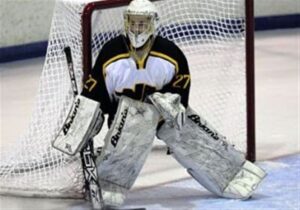 (Wexford, PA – Jan. 17, 2023) – Lindsay Holcroft is one of those rare women athletes that not only compete, but excel in a men's sport.  Starting to skate at the age of two, Lindsay quickly progressed to hone her on ice skills, even though she also ran cross country, track and performed in Irish step dancing. Hockey, however remained her first love.
Holcroft started both her junior and senior year as the goalie on the N.A. boy's hockey team.  At one point during her junior year, Lindsay compiled a goals against average of 1.80 and a save percentage of .920.  Her outstanding performances got her noticed by the Dartmouth Big Green.
During her time at Dartmouth, Holdcroft also had an outstanding career on the ice for the Big Green women's hockey team. At the end of her senior year, she ranked first in program history in games played, minutes played and saves, and finished near the top all-time in wins, save percentage, goals-against average, and shutouts.