Stephanie Madia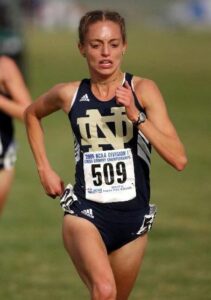 (Wexford, PA – Jan. 17, 2023) – Stephanie Madia excelled as an NA Tiger in both cross country and track. She was instrumental in helping North Allegheny win four WPIAL cross country team championships and three district team track and field titles. She also helped the Tigers win PIAA team cross country gold in 1998 and '99.
Individually, Stephanie won four WPIAL individual championships, winning gold in the 3,200-meter run in 2000 as a sophomore, the 1,600-meter run in 2001 and both the 1,600- and 3,200-meter as a senior in 2002.  She captured state gold in the 1,600 in 2001 and both the 1,600 and 3,200 in 2002.  Stephanie won the 2002 PIAA cross country individual championship. In her senior year, she set the (then) NA track record in the 1600 with a time of 4:56.97.
She was named in both 2001 and 2002 the Pittsburgh Tribune Review female athlete of the year as well as one of the top 50 high school girls distance runners nationally in 2001 by Harrier's. She placed 23rd in the Footlocker Cross country national competition in 2001.
Stephanie continued her college career at Notre Dame University. As a member of the Fighting Irish, she was chosen as one of four finalists for the 2005-06 Honda Sports Award in cross country, an honor presented annually to the nation's top women's cross country runners. In 2006, Stephanie was named by ESPN The Magazine with her first Academic All-America plaque, earning second-team status.  She was inducted into the North Allegheny Hall of fame in 2010 and the WPIAL Hall of Fame in 2019.