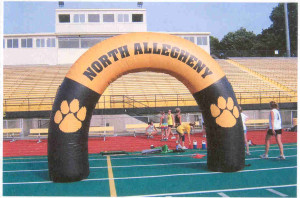 NORTH ALLEGHENY UNIFIED BOOSTERS INFLATABLE ARCH
The NA inflatable arch is available for rent to all NA organizations, schools and booster groups.  The cost of rental is $40 for the first time, $20 for the second and $10 for any additional rentals during one school year.
It can be inflated indoors or out but needs an overhead clearance of at least 15 feet and 12 feet width.  Electricity is required for inflation.
The arch can be reserved by contacting the  Athlete Director's office 724-934-7238.
Basic Inflation Directions:
1.      Unpack the arch from the vinyl storage bag and lay out flat in the shape of the arch.
2.      Place one wooden disk inside of the bottom of each tube.  This is the part that will rest on the floor or ground.  Make sure motor is not pinched inside.
3.      Zip up the zipper on the bottom of the tube.
4.      Plug the cord in to an outlet and inflate.
5.      Stand the arch up and move into place.  Use the guide ropes to secure if necessary.
6.      Make sure the vent on the outside of the tube is free to intake air or the arch will not inflate.
7.      The arch remains plugged in until you are done and want to deflate.
8.      Unplug, allow the arch to lay down and open zippers on bottom of both tubes.
9.      The arch will deflate in about 30 seconds.
10. Fold and place arch, extension cord and accessories in the vinyl bag.
 NOTE: If the arch is wet do to weather, open and dry before returning.