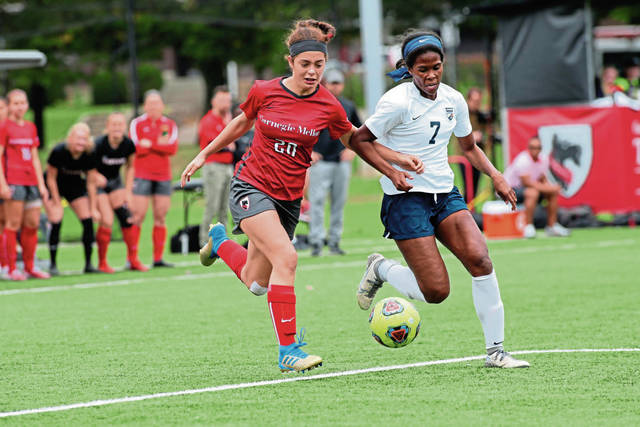 Alex Adams Leads CMU To NCAA Final Four, Named All-American
It was a been a stellar freshman season for Alex Adams at Carnegie Mellon University in 2019. The former North Allegheny soccer star helped the Tartans reach the NCAA Division III Final Four and posted a goal in Friday's semifinal loss to national power, Messiah College. Adams led the Tartans to a 14-6-2 record and an at-large bid in the NCAA tournament. The Tartans defeated Cairn, Swarthmore, Ohio Northern and St. Thomas (Minn.) in the NCAA tournament to reach the Final Four.
Individually, Adams was selected to the United Soccer Coaches Association All-America Team on Thursday. Adams was selected to the third team and is the only freshman to be honored as an All-American in 2019.
Adams is the first Tartan freshman to receive the national award and seventh player in women's soccer history. The first-year forward led the Tartans with 14 goals and six assists for 34 points with 11 of her goals coming during the regular season. Seven of her goals have been game-winning tallies which ties the school record for most game winners in a season. Her 14 goals are the most ever by a Tartan freshman and her 34 points sets a new single-season mark at CMU. The old mark of 32 points was previously set in 1994.
Adams was named the University Athletic Association (UAA) Athlete of the Week for the second time this season after scoring two goals and assisting on three during the opening weekend of the NCAA Division III Women's Soccer Championship Tournament. The forward has recorded three multi-goal games this season and converted her penalty kick during the shootout to advance the Tartans to the NCAA Division III Women's Soccer Championship national semifinals.
As a senior at North Allegheny, Adams tied for the team lead in goals with nine and was selected to the Big 56 Conference All-Section Team, earning first-team laurels.
(Photo and information courtesy of Carnegie Mellon Athletics.)