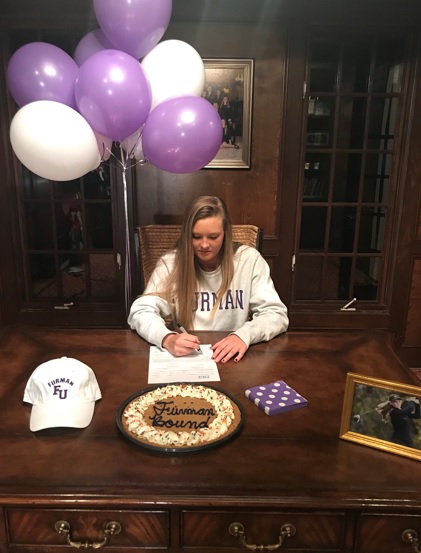 Caroline Wrigley Inks Commitment To Furman University
North Allegheny senior golfer Caroline Wrigley signed her letter of intent on Wednesday to continue her athletic and academic career at Furman University.
The top-ranked player in Pennsylvania, Wrigley, a native of Wexford, Pa., ranks 59th nationally among her recruiting class.  She won her third-straight individual district title last month and went on to claim individual medalist honors for the second-consecutive year at the state championships.  Wrigley, who helped her North Allegheny team to three team state titles, shot a career-low 65 in a high school tournament as a senior this fall.  She has six top-10 AJGA finishes, including a third-place finish at the Penn State AJGA, and tied for 25th at the Junior PGA Championship in 2016.
Wrigley is a member of the National English Honor Society.  Her uncle, Frank Fuhrer III, played collegiate golf at North Carolina and was a member of the U.S. Walker Cup team in 1981.  He played professionally for five years and competed in the Masters Tournament in 1982.
(Bio information courtesy of Furman University Athletics.)