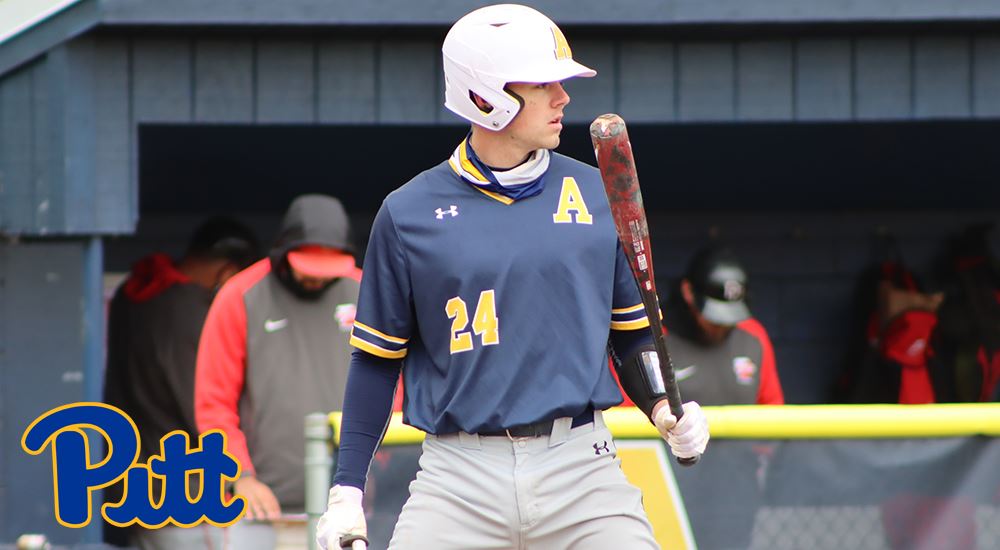 Heckert To Play at Pitt Following Graduation From Allegheny
(Photo and press release courtesy Allegheny College Athletics.)
MEADVILLE, Pa. – Gators' senior infielder, and former North Allegheny baseball player, Brett Heckert has verbally committed to continue his collegiate playing career at the University of Pittsburgh in the NCAA Division I Atlantic Coast Conference (ACC) upon graduation from Allegheny College this May.
Heckert will graduate from Allegheny with honors, possessing a bachelor's degree in Economics before enrolling at Pitt's nationally-ranked Joseph M. Katz Graduate School of Business to pursue his Master's of Business Administration (MBA) with two years of NCAA eligibility remaining.
The 6-foot-3, 200-pound Heckert chose Pitt from a long list of Division I suitors because of its close proximity to home and the high quality education provided by the Katz School of Business. "Growing up 20 minutes north of Pittsburgh, Pitt was very attractive in the sense that my friends and family would be close and able to come to games," said Heckert. "I grew up a Pitt fan attending numerous athletic games growing up."
In two-plus seasons at Allegheny, Heckert has started 64 of the 71 games he has appeared in. He has a .297 career batting average entering his senior campaign after connecting at a .333 clip in 27 games during 2021 and getting off to a blistering .462 start over seven games before COVID-19 shut down the 2020 season. With the Gators, Heckert has 18 extra-base hits, including four home runs (three of which came last season), 41 RBIs, 50 runs scored and 17 stolen bases, while also fielding at a .956 percentage.
Heckert believes that his college choice played a major part in this opportunity even being possible. He credits his decision to attend Allegheny and play for head coach Brandon Crum for making this possible, believing in Crum's vision for the program and where it would take him. "I chose Allegheny because I trusted in what Coach Crum was building here and knew that going DIII would be my best chance to play right away," said Heckert. "Playing for Allegheny gave me opportunities that I don't think I would've had elsewhere. For instance, it helped me to develop as a leader and I was forced to assume more responsibility than I had handled previously."
Crum, who is entering his fifth season as the 24th head baseball coach in Allegheny history, gives credit to Heckert's insatiable work ethic and commitment to improvement for affording him this opportunity. "I am very proud of his personal accomplishments," said Crum. "He trusted our staff and bought into our program's vision. Over these four years that he's worn the "A," his commitment, discipline, and competitiveness have been an example for those around him. The changes he's made to his body allowed him to elevate his game and earn this opportunity at Pitt."
"Brett has been a cornerstone in our program and I credit his high expectations and competitiveness for much of the success our team has experienced during his time in Meadville."
While the excitement of knowing what lies ahead for his future is appealing, Heckert is hungry to return to the diamond and lead Allegheny to success in his final go around with the Gators. "Going into my senior season, I feel as though this is the best team I've played on and that we have as good a chance as ever to bring home a North Coast Athletic Conference (NCAC) title," said Heckert. "I'm excited for the opportunities ahead of me both athletically and professionally. For now though, I am fully focused on one last ride with the Gators."
Allegheny is scheduled to open the 2022 season in Brevard, N.C., with a three-game series against Brevard with two-games scheduled for Saturday, Feb. 12, and one set for Feb. 13.