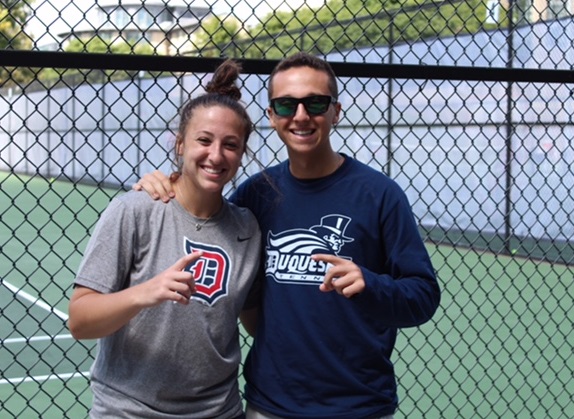 Isaacs Siblings Excel On The Court At Duquesne University
Two former North Allegheny tennis players have continued their success at the collegiate level and they both are members of the same family. The brother and sister duo of Jared and Kylie Isaacs have taken their game to the tennis teams at Duquesne University. Jared, a sophomore for the men's team, was named the team MVP this season with a team-high 47 wins. He also led the team in wins as a freshman with 36 and has been a starter in both doubles and singles in his first two seasons at Duquesne.
Kylie, a senior for the women's program, has a long list of accolades which includes the Duquesne University Female Student-Athlete of the Year award. Kylie holds 10 school records, including wins, singles wins and doubles wins. She is the first player in program history to earn first team All-Atlantic 10 honors four times. In the classroom, Kylie boasts a 3.97 GPA in Information Systems Management and Supply Chain Management and is the Business School co-Valedictorian.
Congratulations to Jared and Kylie and wishing them continued success in the future.