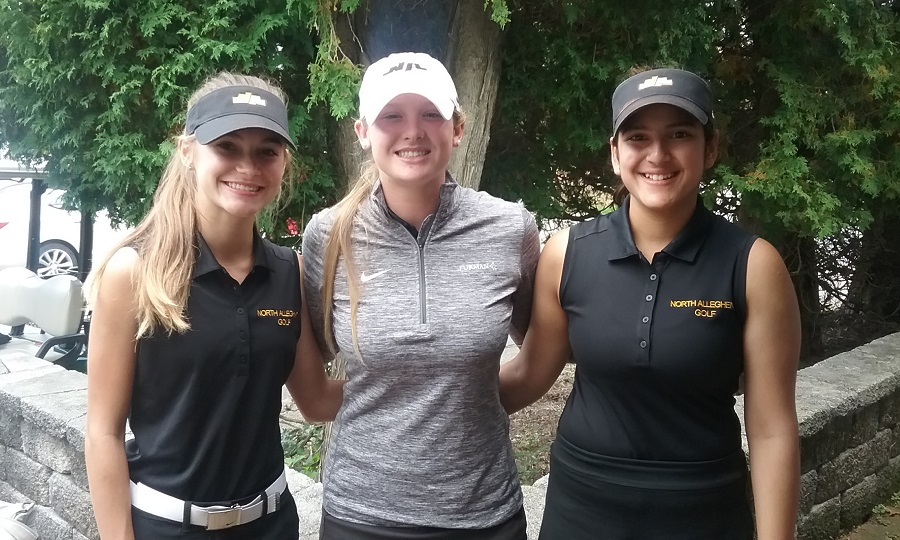 Tigers Advance Three To WPIAL Individual Finals
Three members of the North Allegheny girls' golf team made the cut on Wednesday at the Section 4-AAA individual qualifier and will participate in the WPIAL Individual Championships on October 4.
Juniors Caroline Wrigley and Christina Lewis, and sophomore Esha Vaidya all finished better than the target score of 90 at Pittsburgh North Golf Course. Wrigley topped the scorecard by shooting a 1-under par 72 to claim the individual section title. Lewis, last year's section champion, finished in second place with a 75 with a 2-over. Vaidya carded an 87 to advance.
Also competing at the individual qualifier were sophomore Bella Walter and senior Jordan Farrell who finished with a 92 and 93, respectively.
The North Allegheny girls' golf team returns to action on Friday for a non-section road match with Upper St. Clair.
Below are final results from the Section 4-AAA girls' golf sectional at North Park Golf Club.
2017 Section 4-AAA Sectional at Pittsburgh North Golf Course
| Player Name | School | 1 | 2 | 3 | 4 | 5 | 6 | 7 | 8 | 9 | OUT | 10 | 11 | 12 | 13 | 14 | 15 | 16 | 17 | 18 | IN | TOTAL |
| --- | --- | --- | --- | --- | --- | --- | --- | --- | --- | --- | --- | --- | --- | --- | --- | --- | --- | --- | --- | --- | --- | --- |
| Caroline Wrigley | North Allegheny | 5 | 5 | 2 | 5 | 4 | 3 | 5 | 2 | 4 | 35 | 7 | 4 | 3 | 4 | 3 | 5 | 3 | 4 | 4 | 37 | 72 |
| Christina Lewis | North Allegheny | 4 | 4 | 3 | 5 | 4 | 3 | 4 | 3 | 4 | 34 | 6 | 4 | 4 | 4 | 3 | 6 | 4 | 5 | 5 | 41 | 75 |
| Alexandra Muracca | Shady Side Academy | 4 | 4 | 3 | 7 | 4 | 3 | 5 | 3 | 4 | 37 | 5 | 4 | 5 | 4 | 4 | 5 | 4 | 6 | 7 | 44 | 81 |
| Hannah Conroy | Fox Chapel | 5 | 6 | 4 | 4 | 4 | 4 | 6 | 4 | 4 | 41 | 7 | 4 | 6 | 4 | 3 | 6 | 5 | 4 | 4 | 43 | 84 |
| Esha Vaidya | North Allegheny | 5 | 6 | 3 | 5 | 4 | 3 | 6 | 3 | 5 | 40 | 4 | 5 | 4 | 6 | 5 | 7 | 5 | 6 | 5 | 47 | 87 |
| Elizabeth Walsh | Shady Side Academy | 5 | 4 | 4 | 6 | 6 | 4 | 6 | 4 | 6 | 45 | 6 | 5 | 4 | 5 | 3 | 6 | 4 | 7 | 7 | 47 | 92 |
| Cara Levicoff | Fox Chapel | 6 | 3 | 4 | 7 | 6 | 5 | 9 | 4 | 4 | 48 | 6 | 5 | 4 | 5 | 5 | 5 | 3 | 4 | 7 | 44 | 92 |
| Bella Walter | North Allegheny | 6 | 5 | 4 | 7 | 5 | 4 | 7 | 3 | 5 | 46 | 7 | 5 | 4 | 7 | 3 | 7 | 4 | 4 | 5 | 46 | 92 |
| Jordan Farrell | North Allegheny | 6 | 6 | 4 | 5 | 5 | 3 | 7 | 8 | 5 | 49 | 6 | 4 | 5 | 6 | 2 | 6 | 4 | 6 | 5 | 44 | 93 |
| Arianna Erka | Hampton | 6 | 5 | 4 | 5 | 5 | 3 | 7 | 4 | 7 | 46 | 9 | 5 | 4 | 5 | 4 | 6 | 4 | 5 | 6 | 48 | 94 |
| Anna Grzegorczyk | Shaler | 7 | 5 | 6 | 6 | 6 | 4 | 6 | 5 | 5 | 50 | 6 | 5 | 6 | 5 | 3 | 7 | 4 | 6 | 5 | 47 | 97 |
| Catherine Jewart | Shady Side Academy | 6 | 6 | 3 | 7 | 6 | 5 | 5 | 5 | 5 | 48 | 9 | 5 | 5 | 6 | 3 | 7 | 6 | 5 | 4 | 50 | 98 |
| Hannah Empfield | Kiski Area | 6 | 5 | 5 | 6 | 5 | 4 | 8 | 4 | 8 | 51 | 7 | 6 | 5 | 5 | 4 | 7 | 4 | 5 | 6 | 49 | 100 |
| Nicole Garcia-Tunon | Fox Chapel | 4 | 7 | 4 | 7 | 6 | 5 | 6 | 6 | 4 | 49 | 8 | 6 | 5 | 5 | 6 | 8 | 4 | 7 | 6 | 55 | 104 |
| Kelsi Zik | Plum | 6 | 6 | 4 | 5 | 7 | 4 | 7 | 4 | 6 | 49 | 7 | 6 | 5 | 6 | 6 | 7 | 6 | 6 | 7 | 56 | 105 |
| Jessica Paper | Fox Chapel | 7 | 7 | 5 | 9 | 6 | 4 | 7 | 4 | 4 | 53 | 8 | 5 | 6 | 6 | 4 | 6 | 6 | 7 | 7 | 55 | 108 |
| Emilee Miller | Shaler | 5 | 6 | 5 | 7 | 6 | 5 | 6 | 4 | 6 | 50 | 7 | 7 | 7 | 8 | 5 | 9 | 3 | 7 | 6 | 59 | 109 |
| Isabella Mercurio | Kiski Area | 8 | 7 | 3 | 8 | 5 | 4 | 7 | 4 | 6 | 52 | 8 | 6 | 4 | 5 | 6 | 10 | 4 | 7 | 7 | 57 | 109 |
| Hana LeBrew | Shaler | 5 | 7 | 4 | 5 | 6 | 5 | 5 | 4 | 6 | 47 | 7 | 5 | 6 | 5 | 5 | 10 | 6 | 9 | 9 | 62 | 109 |
| Elziabeth Hernberger | Trinity | 6 | 6 | 4 | 5 | 6 | 3 | 9 | 3 | 6 | 48 | 9 | 5 | 6 | 7 | 7 | 9 | 3 | 9 | 7 | 62 | 110 |
| Becky Minda | Kiski Area | 5 | 9 | 4 | 6 | 4 | 4 | 7 | 7 | 4 | 50 | 8 | 6 | 5 | 7 | 7 | 8 | 6 | 6 | 7 | 60 | 110 |
| Emily Schleffler | Fox Chapel | 6 | 7 | 5 | 8 | 5 | 4 | 9 | 6 | 5 | 55 | 10 | 4 | 7 | 6 | 3 | 8 | 4 | 7 | 7 | 56 | 111 |
| Sarah Vietmeier | Montour | 6 | 6 | 5 | 6 | 5 | 4 | 8 | 3 | 7 | 50 | 9 | 7 | 5 | 7 | 8 | 9 | 4 | 9 | 9 | 67 | 117 |
| Dana Wolfe | Shaler | 7 | 7 | 4 | 8 | 5 | 4 | 9 | 5 | 7 | 56 | 9 | 6 | 6 | 9 | 5 | 9 | 6 | 8 | 9 | 67 | 123 |
| Madi Meeder | Shaler | 7 | 5 | 6 | 7 | 14 | 6 | 11 | 4 | 9 | 69 | 7 | 4 | 6 | 14 | 12 | 11 | 6 | 9 | 9 | 78 | 147 |