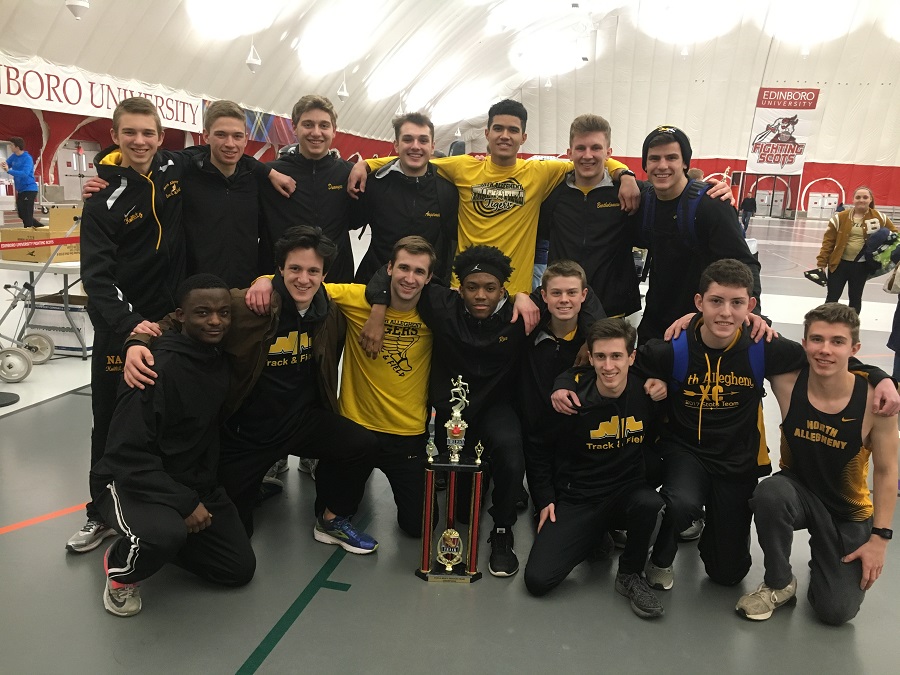 NA Boys Win Indoor Track & Field Title, Girls Runners-Up
The NA Boys Track team had a dominating performance Saturday at the TSTCA Indoor Championship Meet and brought home the Championship Trophy.  Senior Ayden Owens led the charge, being the only individual to win three events in the meet.  He won the 200m Dash and broke the current school records in the 60M Hurdles and Long Jump.  Dan McGoey also led a charge of his own as he raced for a first place medal in the 3000m Run.  Other individuals placing in the meet included Donovan Rice in the 60m Hurdles (7th), Jono Pelusi in the Pole Vault (6th), Connor Ditka in the Shot Put (6th), and Richie Pajak in the High Jump (8th).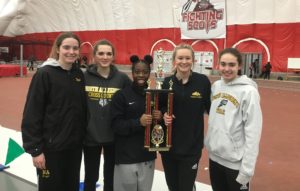 The NA Girls Track team put together one of the finest performances throughout their team history in this meet but ultimately fell a few points shy of meet champion and sectional rival Butler.  Individual performances that led to the Runner Up Trophy included Clara Savchik and Hannah Lindgren taking 2nd and 3rd in the 3000m Run, Vittoria LaRosa and Yulia Yatsenko taking 6th and 7th in the Pole Vault, and Casey Burton medaling 2nd in the 60m Dash and a school breaking 3rd place medal in the Long Jump.
Several NA athletes will be competing in the Indoor State Championship Meet on Sunday at Penn State University.