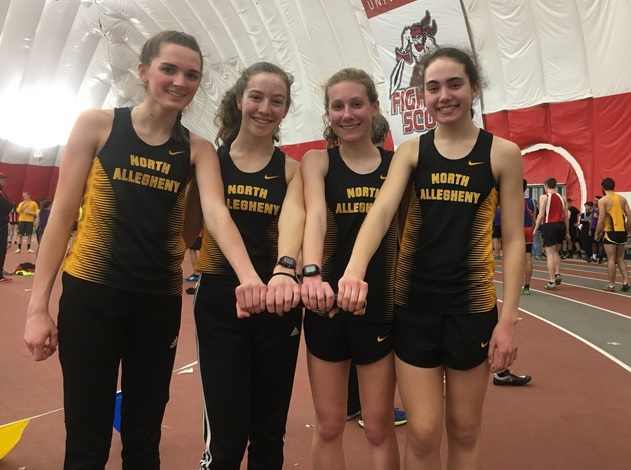 NA Indoor Track Competes At Final TSTCA Open Meet
NATF athletes competed in the final TSTCA open Meet on Saturday at Edinboro University.  Several athletes placed and posted personal best performances in hopes of qualifying for next week's Championship Meet.
The girls' distance crew ran extremely well as senior Clara Savchik placed 2nd in the 3200m Run while shortly behind her was teammate Hannah Lindgren finishing 3rd.  Keeley Mitsuka finished 8th overall in the Mile Run.  Casey Burton continued to improve in the sprints as she won the 60m Dash and placed 6th in the 200m Dash.  She also jumped to a 2nd place finish in the Long Jump.  Vittoria LaRosa vaulted her best performance of the season placing 2nd overall in the Pole Vault.
On the boys' side, Jono Pelusi scorched around the track as he earned a 2nd place in the 400m Dash.  In the field events, high jumpers Richie Pajak (5th) and Joseph Wanalwa(8th)  both posted their season best performances.  Connor Ditka placed 6th in Shot Put and newcomer Turner White was able to leap to a 5th place finish in the Long Jump.
The Tigers will return to Edinoboro University on Saturday to participate in the TSTCA Championship Meet.