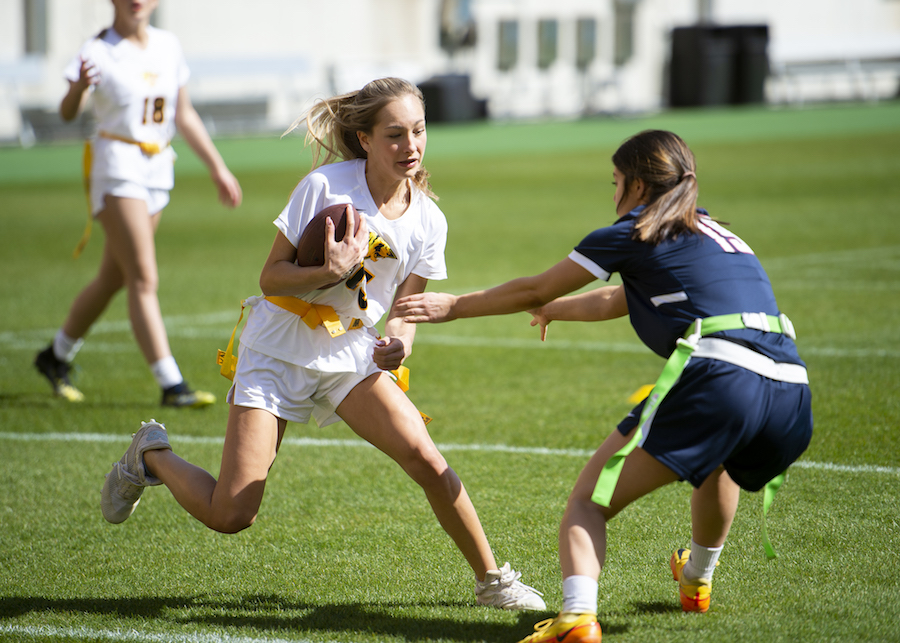 NA, Steelers kick off 2023 Girls Flag Football season
The Steelers season is still months away, but there was plenty of football activity at Acrisure Stadium on Sunday afternoon.
As a part of the Steelers continued commitment to growing girls flag football, the team hosted a kickoff event for the Girls Flag Football League in Pittsburgh that they support, with an afternoon filled with excitement that featured tight end Connor Heyward taking part. This year there are 17 schools participating, up from six in 2022, with some of the schools having multiple teams because of the popularity.
The highlight was a unique unveiling of each team's uniforms. The uniforms were hung in the Steelers locker room at Acrisure Stadium, similar to the way Steelers players jerseys are hung on game day, with special lighting making it a one-of-a-kind experience for the players.
"It's pretty awesome," said Mike Marchinsky, the Steelers senior manager of marketing events. "Some of the girls play sports, some don't. But when they walk into their locker rooms at their high school, their uniforms aren't hanging like this for the first time. We wanted to provide that experience. It's like what our equipment guys do on game day with the jerseys, hanging them in the lockers on game day when the players get there, or having them on their shoulder pads. We had Nike cleats and gloves in the locker. It's cool to see that experience for the girls for the first time."
The uniforms were provided by Nike as part of a partnership with the NFL and the teams, with a grant given to all 50 states in an effort to grow girls flag football. Schools were able to go to Nike's website and design their own uniforms for free for their teams.
"It's all a part of Nike working with the NFL and NFL Flag to help make girls flag football a sanctioned sport in all 50 states," said Marchinsky.
After changing into their uniforms the players had an opportunity to have a team photo taken in front of the Steelers logo by the player entrance tunnel.
Then it was time to take the field. They held short practices with officials on hand to go over all of the rules and then it was time for scrimmages.
It all wrapped up with a tour of the Steelers Hall of Honor Museum.
"Last year we were able to play the championship tournament at Acrisure Stadium. This year we are unable to host it because of scheduling conflicts," said Marchinsky. "I wanted to make sure the girls had an experience and some excitement from playing the sport, especially the schools that didn't participate last year. We wanted to bring the teams in to experience Acrisure Stadium and have some fun.
"It was a really cool day for the girls, especially the teams that didn't participate last year. They get a feel that this is a Steelers offered program.
"We are so excited to be able to offer this. I am in the business of providing the emotion. I want people to be able to get a sense of encouragement about doing things. It's a different level of excitement when you can do it in the Steelers locker room, at Acrisure Stadium. Everybody in the organization has been awesome to work with on this. Everybody is willing to go above and beyond to make sure the girls have a special experience."
For more information on Girls Flag Football, please visit our FLAG FOOTBALL SECTION.
(Photos, press release courtesy Pittsburgh Steelers).