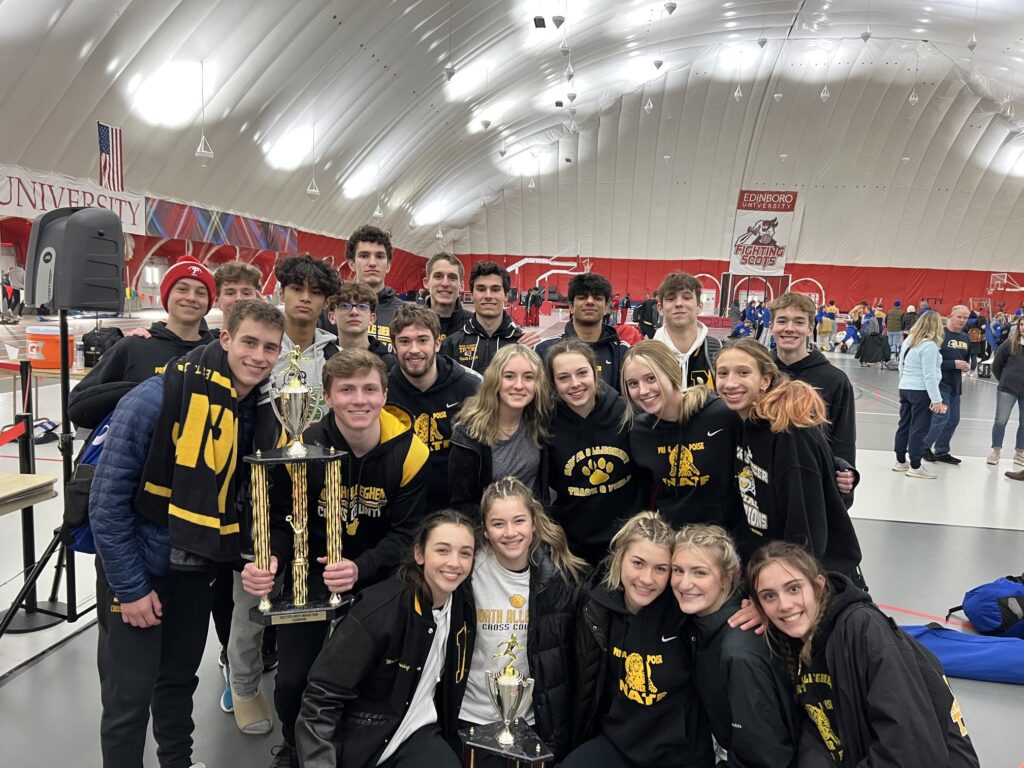 NA Girls, Boys Both Take 1st Place at TSTCA Indoor Championship
The North Allegheny indoor track and field teams both garnered first place at the 2023 TSTCA Championship at Edinboro University on Saturday. The Lady Tigers totaled a team score of 106.33, while the NA Boys achieved a winning score of 69. In all, 42 medals were earned on the day by North Allegheny in a convincing effort.
For the Lady Tigers, a dominating performance in 3000m run was exemplary of the entire day for NA. Sophomore Wren Kucler, her twin sister Robin Kucler, senior Grace Rowley and junior Erin McGoey took the top four spots in the event. Robin Kucler clocked in at 10:10.25 to win gold.
The girls' Distance Medley Relay quartet of Robin Kucler, sophomore Kendall Lucas, junior Eva Kynaston and Wren Kucler took first place with a time of 12:45.58.
Second-place performances were turned in by junior Sophie Aglietti in the Pole Vault and sophomore Isabella Costa in both the 400m Dash and Long Jump. The 4×200 Relay combo of Chloe Reed, Arianna Tegtmeier, Mya Currie and Costa grabbed silver. Additionally, the 4×400 Relay team of Tegtmeier, Costa, Mackenzie Winning and Reed also placed second.
The Lady Tigers had a strong showing in the One Mile Run with Wren Kucler, Kynaston and Robin Kucler taking third, fourth and fifth place, consecutively. McGoey also placed eighth in the event.
Currie medaled in the 60m Dash and 200m Dash, placing sixth in both events. Along with Aglietti's first-place effort in the Pole Vault, Lindsay Breneman and Delaney Tedesco each medaled in the Pole Vault by taking fifth and sixth place, respectively.
On the boys' side, senior Jackson Pajak won gold in the 800m run with a time of 1:58.99. Sophomore Jack Bertram delivered a first-place performance in the 3000m run with a time of 8:33.03, followed by senior Gregory Kossuth (second place) and junior James Behrend (sixth place) in the event. Senior Rohan Gupta garnered gold in the Triple Jump with a winning leap of 43-4. Gupta also placed fifth in the Long Jump.
A second-place showing was delivered by senior A.J. Foulk in the 60m Hurdles with a time of 8.78. The Distance Medley Relay quartet of Kossuth, Michael Gauntner, Pajak and Bertram also won TSTCA silver.
Other outstanding performances were given by Ryan Handron and Zach Duckworth with fifth and sixth place efforts, respectively, in the Pole Vault. Gauntner took eighth place in the One Mile Run.
For a full look at North Allegheny's results at the TSTCA Indoor Championship, click here.
The Tigers will next gear up for the PTFCA Indoor Track & Field Championship on Sunday, Feb. 26 at Edinboro University.