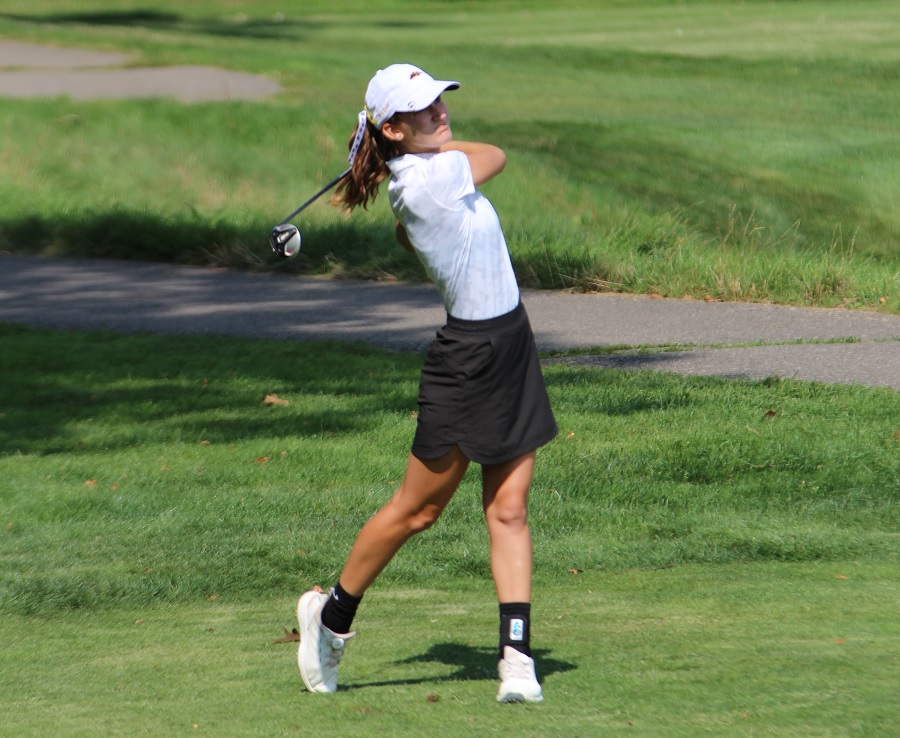 NA Tops USC, Penn-Trafford For Another Tri-Match Sweep
The North Allegheny girls' golf team played in its second consecutive tri-match on Tuesday and earned a pair of wins, defeating Upper St. Clair and Penn-Trafford. The Tigers won the day with a team score of 164, while the Panthers shot a 196 and the Warriors finished third with a 197.
Leading the way for North Allegheny was senior Lauren Kardos with an even par 35 at Diamond Run Golf Course. Senior Katie Rose Rankin shot a 37, while junior Megan Manesiotis and freshman Kayli Dings each chipped in with scores of 46.
For Upper St. Clair, the Panthers were paced by Addy Shedd's 44 and Penn-Trafford's Amanda Bobish led the Warriors with a 44.
North Allegheny improves to 4-0 on the young season and will visit Fox Chapel on Wednesday.
Girls Golf Summary 8-16-22 vs. Upper St. Clair/Penn-Trafford
| Match Summary | | | | | |
| --- | --- | --- | --- | --- | --- |
| NORTH ALLEGHENY | SCORE | UPPER ST. CLAIR | SCORE | PENN-TRAFFORD | SCORE |
| Katie Rose Rankin | 37 | Liz Delo | 52 | Antonela Damico | 50 |
| Megan Manesiotis | 46 | Anna McElligott | 58 | Makayla Cassario | 52 |
| Lauren Kardos | 35 | Natalie Zhunie | 45 | Erin Driscolo | 51 |
| Kayli Dings | 46 | Addy Shedd | 44 | Amanda Bobish | 44 |
| | | | | | |
| TOTAL | 171 | | 198 | | 209 |
| | | | | | |
| Amber Roth | 58 | Myla Burshil | 55 | Taylor Shearer | 57 |
| Kate Gilliland | 48 | | | | |
| Megan Gross | 53 | | | | |
| Niyati Cannabilla | 54 | | | | |