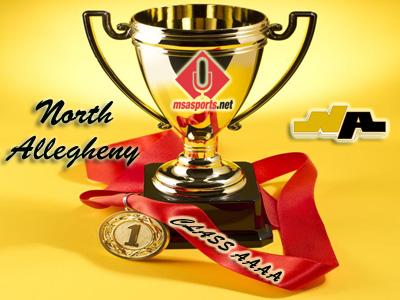 Nation of Domination; NA Wins Another MSA Sports Cup
North Allegheny has continued its supremacy over the largest classification in the WPIAL by winning its 13th straight MSA Sports Cup for the 2015-16 season. The black and gold won this year's MSA Quad-A title with a total of 830 points, with Hempfield and Norwin tying for second place with a distant 365 point total. The Tigers have won every MSA Sports Cup since the inception of the award.
North Allegheny competes in 39 varsity sports, however, not all 39 are considered in the MSA Sports Cup competition. This fact makes NA's domination of competition that much more impressive.
Helping NA maintain possession of the MSA Class AAAA title was a strong performance in the fall by Tigers girls' tennis team which won a WPIAL and PIAA title. The state crown was the tennis team's third in a row.
The winter sports season was highlighted by the North Allegheny boys' and girls' swimming and diving teams which both won WPIAL championships. The NA boys went on to capture bronze at the state level.
It was the track and field team that waved the NA banner proudly in the spring as the boys' squad won its fourth straight WPIAL title. The NA boys claimed a third place finish in PIAA competition as well.
Along with the three sports teams featured above, nearly every Tiger team contributed to the point total garnered in the MSA Sports competition. For a complete breakdown of scoring, click here.