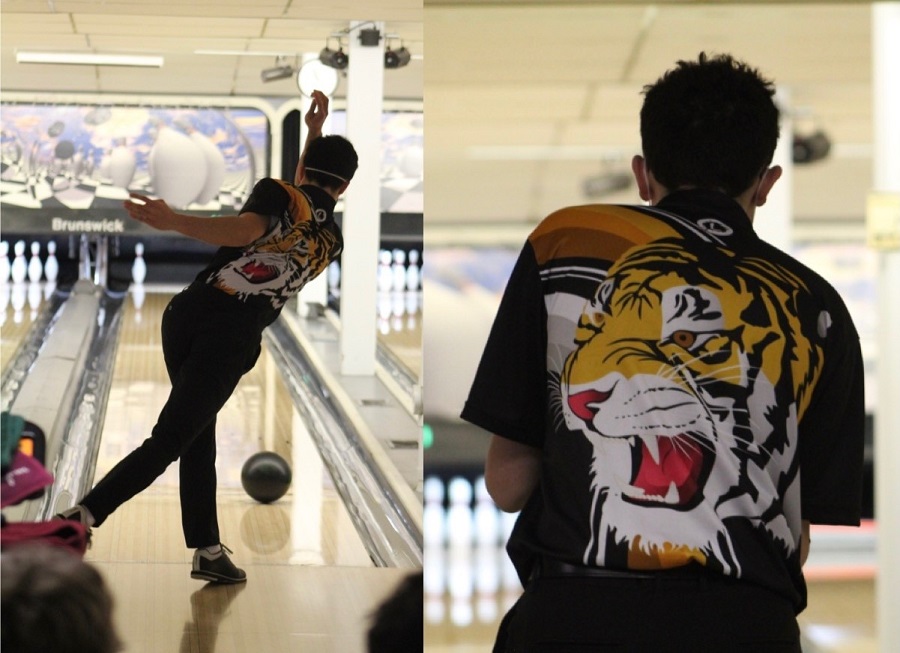 North Allegheny is Home Alone
The NA Bowling Teams hit the lanes on Monday at Perry Park to bowl an uncontested bye match.
The early morning match started slowly, but the Tigers came alive with the Boys team knocking over a total of 3019 pins and the Girls, 1275.
Fresh out of the gates, was freshman Cole Scott with a 201.  He was joined by junior Gavin Rush (198) and senior Dylan Scheidler (197).  Game 1 – 934 pins.
During Game 2, Rush and Scheidler continued to pave the way with 207 and 203, respectively.  Assisting in the pursuit was Scott (196) and senior anchor, Andrew Cook (195).  Game 2 – 989.
Game 3 started with a hot pursuit as the Tigers' strikes were often and plentiful.  NA threw 15 strikes in 20 frames.  Junior Jeb Jorden caught fire and threw 8 strikes through the front eight.  A tight inside-line in the 9th frame ended his quest of a perfect score with a solid 6-10 left standing.  Jorden finished the third game with a 265 and the high game for the match.  Also eclipsing the 200+ pin barrier was Cook (233) and Scheidler (227).  NA earned 1096 pins.
The three highest series of the match belonged to Scheidler (627), Jorden (613), and Cook (606).
The Boys team is at the top of the WPIBL North with a record of 5-0.  They currently sit at the top of the entire WPIBL (48 teams) with the highest weekly series and the highest team average (pins per game).
As we reach the mid-point of the season, the Tigers begin looking to post-season play.  Alexis Robinson has a cumulative average of 170.27 and currently qualifies for the WPIBL Singles Championships.  Cook, Joey Lydon, Scheidler, Jorden, Rush, and Scott qualify for the Boys competition.
This Thursday, the Tigers will travel to Deer Lakes Bowl in Cheswick, PA to take on the Kiski Area Cavaliers.  The match begins at 3:00pm and can be viewed on the NA Bowling Facebook page.