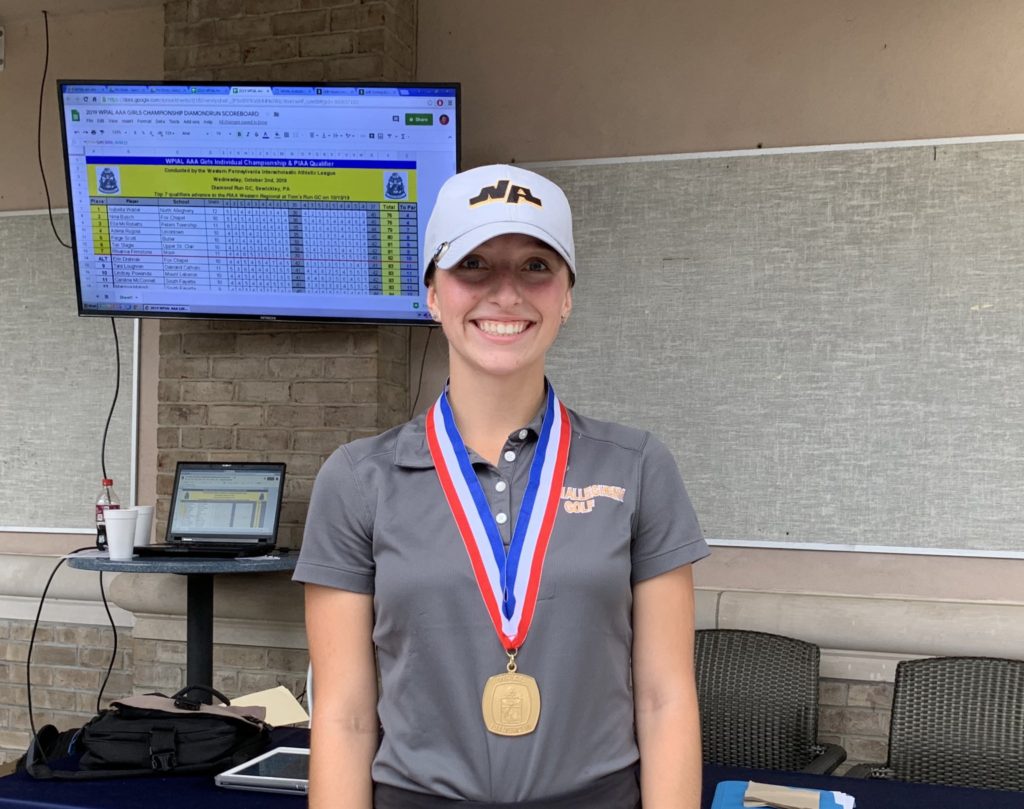 Student-Athlete Profile: Senior Isabella Walter
On Oct. 2, 2019, North Allegheny senior Isabella Walter was unfazed by the tension of playing in the WPIAL individual championship. After 18 holes of golf, the magnitude of the event became even greater when Walter finished in a first-place tie with Fox Chapel's Nina Busch sending the championship into a two-hole playoff. In a thrilling finish, Walter sank a 12-foot putt on the second hole of the playoff to capture the WPIAL Class AAA individual crown.
The events on that beautiful fall day at Diamond Run Golf Course proved poetic for Walter, who dedicated her entire offseason on the cerebral aspect of golf.
"I needed to work on my mental game," said Walter about her offseason approach. "I honestly believe the (offseason workouts) made me a better player because I wasn't very nervous playing against anyone last fall."
Following a first-place showing at the WPIAL individual qualifier in September, Walter's confidence skyrocketed heading into the WPIAL championship.
"I walked onto the course with my head up. I was confident in my game and I played all summer long. It was one of the biggest things I've ever won in my golf career so far."
Walter's victory at the WPIAL individual championship also continued North Allegheny's dominance at the event. Former NA golfer Caroline Wrigley (Furman University) took first place at the WPIAL finals from 2016-2018. Walter's triumph made it four consecutive years a Tiger came home with the gold.
After her victory at the WPIAL championship, Walter continued her torrid shooting by finishing in a first-place tie at the West Region Championship on Oct. 15. That performance qualified her for the PIAA individual championship in York where she ultimately finished in 12th place against the best competition in the state.
Throughout her senior season, Walter was typically the best player on any course she stepped foot on. She helped the North Allegheny girls' golf team to a silver medal at the WPIAL team championship on Oct. 10. Walter was the clubhouse leader at the competition, posting the lowest score of any golfer on the day with a 74.
For her career at North Allegheny, Walter has been a part of three WPIAL team championships and two PIAA team crowns.
While Walter has played for some excellent coaches at North Allegheny, including former coach Mike Hambrick and current head coach Samantha Schoenfeld, she didn't have to look too hard to find her greatest mentor.
Her father, Gene Walter, is a PGA professional and owner of the Pennsylvania Golf Academy. Gene Walter is an accomplished Tri-State PGA champion and PCAA State Amateur champion, among other laurels.
"My Dad has always been my main influence growing up. He has an amazing swing…and he knows how to have fun on the course and he knows when to be serious at the same time. That's what I always wanted to be as a player.
"He was very hard on me…but I understood that he just wanted me to become great. Everything he's done for me I couldn't be more thankful for. He's everything that I probably could have wanted in a father."
The hard work and perseverance displayed by Walter over the course of the last year led to a scholarship at Division II Mercyhurst University. At Mercyhurst, she'll join a program that finished third this past fall in the Pennsylvania State Athletic Conference.  Walter plans to pursue a degree in Graphic Design.