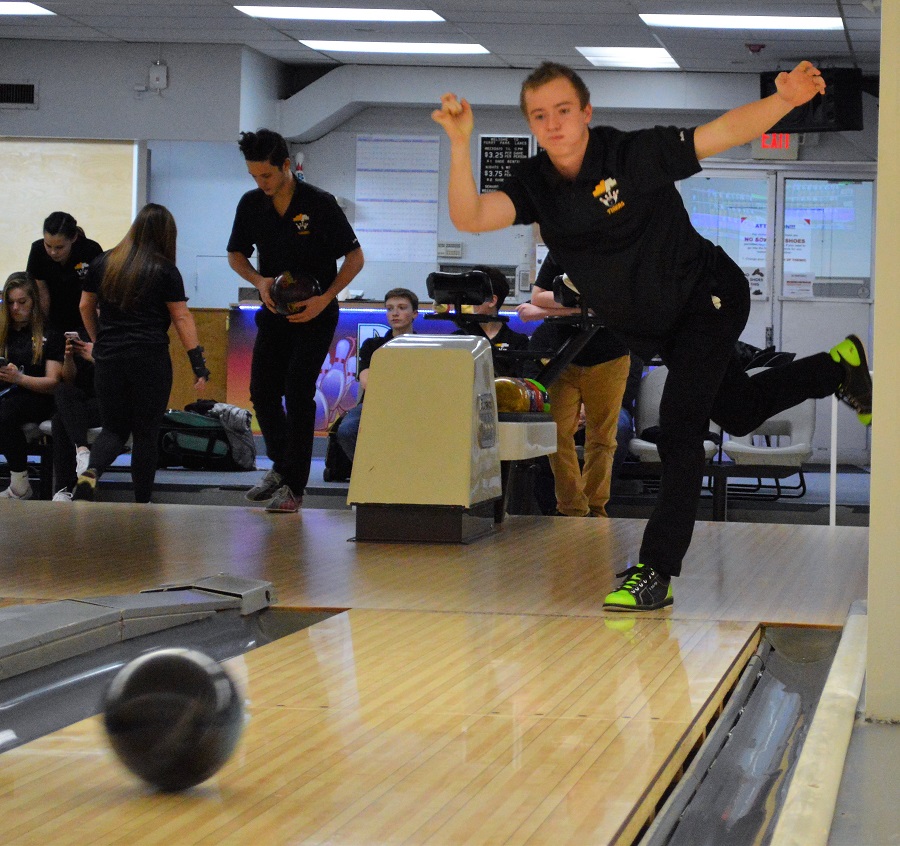 Tiger Bowlers Continue Winning Ways
The Seneca Valley Raiders were outmatched by the streak of Tigers that invaded Mars Lanes. The attacking Tigers showed no remorse as they devastated the Raiders and left them black and blue.  (No worries… these are their school colors.)
The Tigers racked up more than double the pins knocked down by Seneca; winning by over +1385 pins. Leading the Tigers was freshman Dylan Scheidler. Scheidler started the match by rolling a 214 in Game 1.  Freshman Andrew Cook added a 199.  This dynamic duo has been a great addition to the bowling team and together they bowled a 540 and 538 series, respectively.
Many Tigers contributed in the brawl: junior Alex Cook (538 Series), senior Griffin McVay (239 game; 530 Series), senior Matt Secen (526 Series), sophomore Steve Reybein (525 Series), and senior T.J. Robinson (521 Series).  Freshman Andrew Dubinett had a season high game, 201, and ended the day with his highest series of the season.
The Tigers (8-1) have a lock on second place in the WPIBL North and one of the two coveted playoff spots for the team championships later this month. Fifty-four teams begin the season, while only 18 move on.  With a lot of depth on this year's roster, the Boys' team looks to make a run deep into the extended season.
The WPIBL Singles Championships are also on the horizon with Scheidler, Andrew Cook, Alex Cook, McVay, and Robinson hoping to set the lanes on fire.
The Lady Tigers won all three of their games and total pins from the Raiders, earning all 7 match points. Leading the Tigers for a second week in a row was freshman Lexie Robinson.  Senior Cassidy Heim had her best match of the season.  Heim not only bowled her highest game this year (148) but she also added another (140).  By the end of the day she achieved her season high series.  Junior Vivienne Pongrace rolled her highest competitive game this season.  The Lady Tigers (6-3) currently sit in a tie for second place with one match left in the regular season.
Sophomore Julia Jorden is the only Lady Tiger currently qualifying to participate in the WPIBL Singles tournament.
Both the Boys' and Girls' teams look to avenge their dual match loss when the Butler Golden Tornadoes blow into Perry Park Lanes next week. The Butler teams are currently undefeated at the top of both sections.
We will be celebrating our senior bowlers this Wednesday at the last home match of the season.