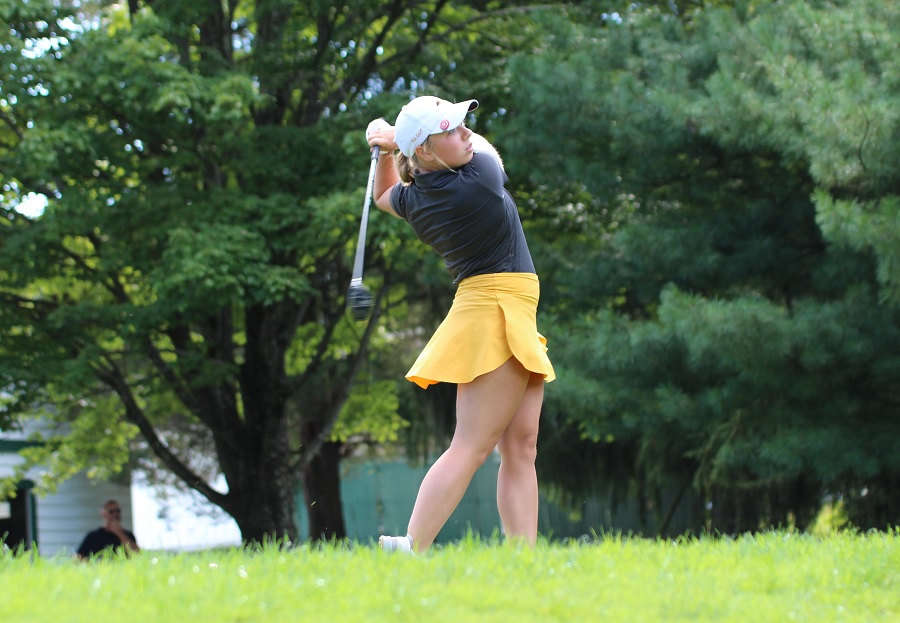 Tigers Cap Busy Three-Day Span With Win Over Oakland Catholic
The North Allegheny girls' golf team capped off the section schedule on Monday afternoon with a 175-185 win over Oakland Catholic at Edgewood Country Club. The victory improves NA's record to 15-1 overall and gives the section champs a final section mark of 9-1.
The Tigers were paced by junior Megan Manesiotis with a clubhouse best score of 40. Seniors Katie Rose Rankin and Lauren Kardos followed with a 43 and 45, respectively. Freshman Kayli Dings rounded out the afternoon with a 47. Oakland Catholic was led by Paige Meyers and her score of 43.
The triumph over the Eagles concluded a busy three-day span for the Lady Tigers. Over the weekend, NA participated in the McDowell Invitational and finished third out of 11 teams from Ohio and Pennsylvania. Individually, Rankin finished in second place overall.
The McDowell Invitational serves as great preparation for individual and team tournament play ahead for North Allegheny. Up next, the Tigers will send five representatives to play 18 holes at Diamond Run on Wednesday for the Individual Section Qualifier. Those that make the cut will advance to the WPIAL Individual First Round on Monday, Sept. 26.
Girls Golf Summary 9-20-22 vs. Oakland Cathlolic
Match Summary

NORTH ALLEGHENY - 175
OAKLAND CATHOLIC - 185
NORTH ALLEGHENY
SCORE
OAKLAND CATHOLIC
SCORE
Megan Manesiotis
40
Katie McQuigan
45
Katie Rose Rankin
43
Ryan Salvitti
46
Lauren Kardos
45
Paige Meyers
43
Kayli Dings
47
Gina Palladino
51
TOTAL
175
185
Amber Roth
54
Gretchen Waruszo
58
Kate Gilliland
54