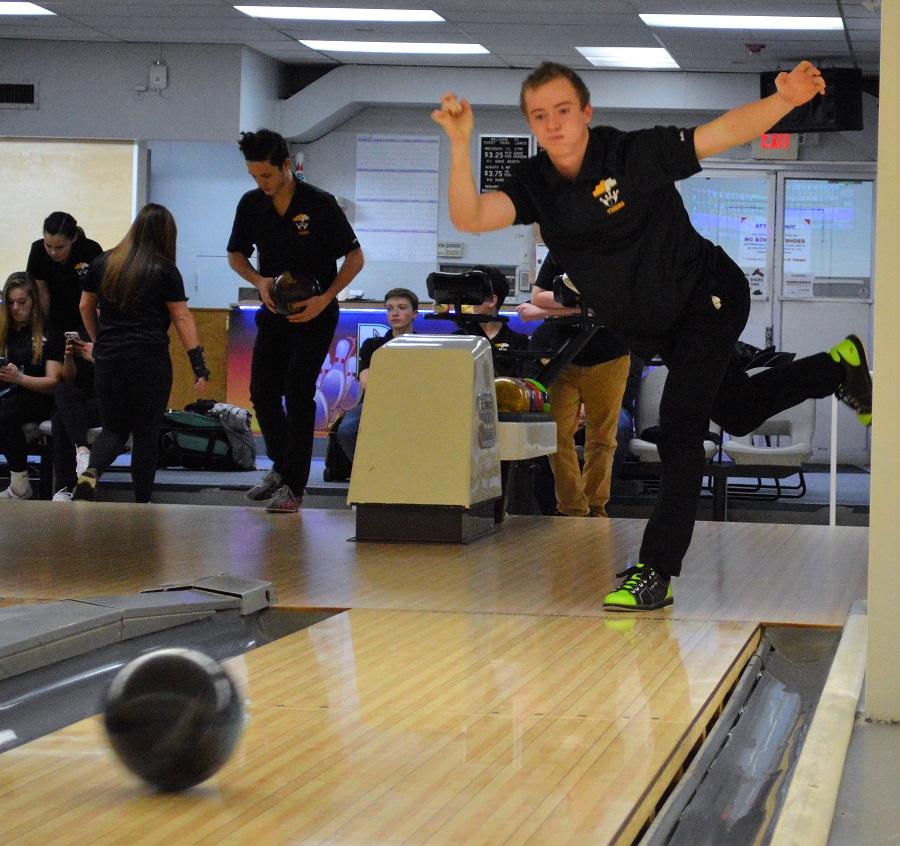 Tigers Claim Victories In First Two Matches Of The Season
Match 1:
Welcome to the WPIBL. The North Allegheny Boys and Girls Varsity Bowling Teams opened up section play Wednesday against Freeport High School in their inaugural season. The Tigers quickly exterminated the visiting Yellow Jackets at Perry Park Lanes in McCandless.
Both the boys and girls teams came away with a stinging victory, 7-0, and sent the Yellow Jackets back to their hive with an 0-1 record.
The Tigers were led by Senior, Griffin McVay who bowled a 177, 212, and 223 leading all bowlers with a 612 series.  Not to be outdone senior, TJ Robinson rolled a 182, 203, and 219. Both boys finished the day with 600+ pin series.
Five more Tigers rolled high games to begin the season: Senior Matt Secen (213), Junior Alex Cook (203), Sophomore Steven Reybein (201) and Freshmen Dylan Scheidler (203) and Andrew Dubinett (200).
The Lady Tigers are continuing to build on their program, welcoming many new athletes to the team. They were led by sophomore Julia Jorden, who had the high series for NA and led all bowlers with a high game of 151.
Match 2:
The Seneca Valley Raiders tried to assimilate an assault in Tiger territory, but were turned away before gaining any momentum. It was a great week for the NA Bowling Program having both the Boys and Girls teams finish the first week of match play with a stellar 2-0 record.
The girls' team won each of their games by over 100+ pins; winning all 7 match points and finishing the match 409 pins ahead of SV. First year members of the bowling team: Junior Gretchen Kiefer, Sophomore Caroline Radocaj, and Freshman Lexie Robinson all had their highest 3 game series of their rookie season.  Sophomore Julia Jorden (145, 148, 171) finished the day with a personal best 464 series.
The NA boys made quick work of the visiting Raiders by rolling a team high of 1043 pins by the end of the first game. It took the combined efforts of seniors TJ Robinson (235), Griffin McVay (227), Matt Secen (179), along with junior Alex Cook (193), and freshman Dylan Scheidler (209) to achieve such a feat.  McVay bowled the highest second game (221) and finished the day eclipsing the 600 pin barrier with a 624 series.  Cook led the Tigers during the third game with a 212.  Not to be outdone by his older brother, freshman Andrew Cook rolled a 206 to join the leaderboard.  The Tigers took all 7 match points in a resounding victory.
Next week is the first away match for the Tigers when they visit the Shaler Titans.