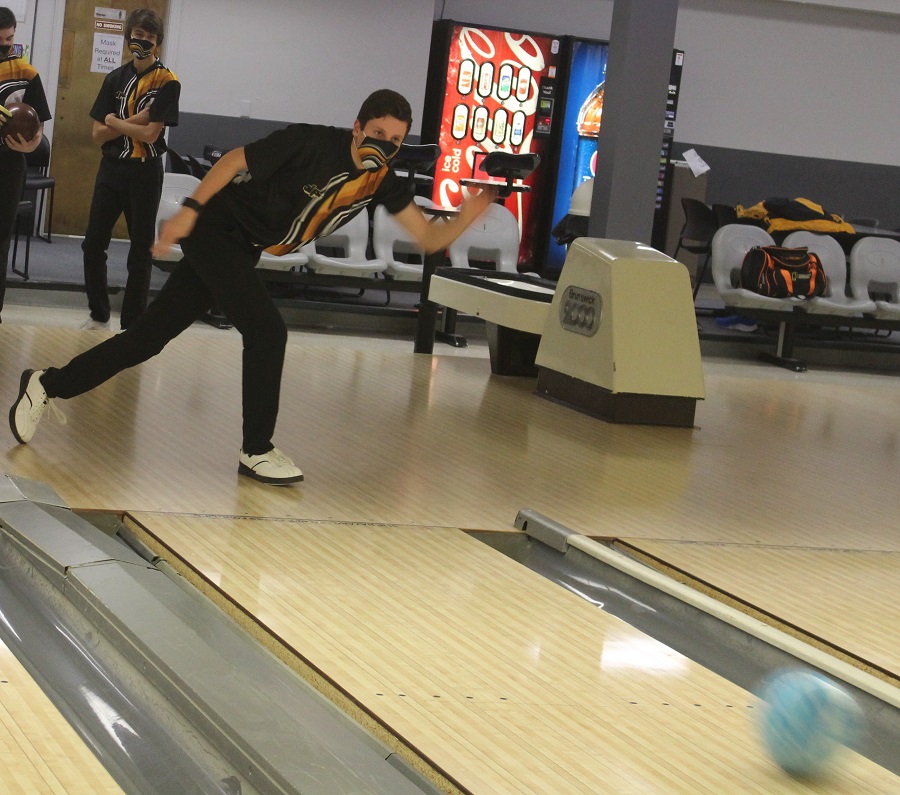 Tigers Outgun the Cavaliers
The Kiski Area Cavaliers entered Perry Park Lanes in McCandless on Monday eager to avenge their recent defeat by the Tigers.  Joey Belles led the assault with a 672 series, a season high for the senior.
NA was ready for the attack and was mounting an offensive of their own.  Leading the charge was junior Jeb Jorden with a 245, throwing 7 strikes in the final 7 frames.  Joining him on the front line, was junior Gavin Rush and senior Joey Lydon.   Working in tandem, they knocked over 211 and 205 pins, respectively.  Bringing up the flank, freshman Cole Scott had a respectable 198.  North Allegheny jumped out to a quick lead after Game 1, 1042 to 660.
Game 2 transitioned into a turkey hunt, as all five varsity bowlers were able to obtain the familiar bowling achievement.  Lydon and senior Dylan Scheidler each started the game with a gobbler.  Jorden quickly added a third.  Scott began his turkey trot in the fourth frame.  Scheidler added another in frames 5-7.  Rush added to the melee in frames 8-10, while Jorden added his second turkey in the final frames of the game.  In all, seven turkeys were obtained along with the victory, NA 1043 to Kiski's 751.  Jorden led NA, again, with a 230.   Scheidler-221, Scott-201, Lydon-200, and Rush's 191 added the exclamation point to the victory.
North Allegheny carried their dominance into the third game.  Lydon caught fire throwing seven strikes in eight frames and ended up with the high game award for the match, a 255.  Close on his heels was Scheidler's 236 and Jorden's 203.  At the end of the third game, NA had accumulated 1063 pins compared to Kiski with a 705.
Finishing the day in the top three spots for the Tigers were Jorden (678 series), Lydon (660 series), and Scheidler (640 series).  As a team, NA knocked over 3148 pins compared to Kiski Area's 2116.
The Tigers were able to achieve 3- 1000+ pin games during the match today and have now accumulated 12 for the season.  NA remains unbeaten; 7-0 in match play with a 21-0 game record.  North Allegheny is currently the #1 ranked Boys team in the WPIBL with a team average of 1014 pins per game.
For the Lady Tigers, senior Alexis Robinson rolled the high game and high series for the day, 212 and 544.  Junior Morgan Maughan rolled a season high game of 150 and sophomore Katrina Price added a 146 of her own. The Girls are 2-5 for the season.
NA hosts the Seneca Valley Raiders this Wednesday for our final home stand.  Friends and family can watch the action at 3:00pm on the NA Bowling Facebook page.