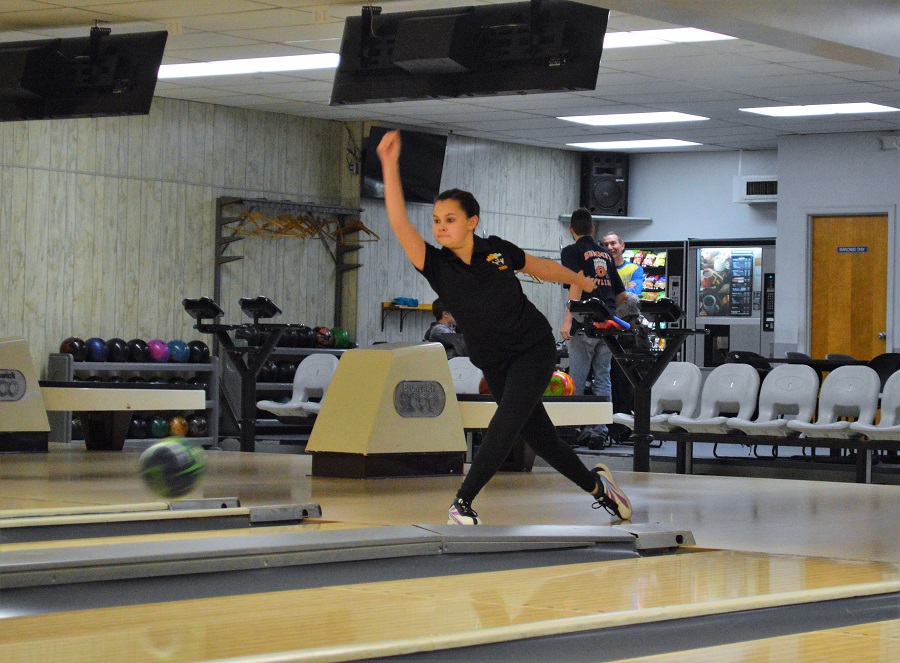 Tigers Sweep Planets In Trip Down Memory Lane
The Tigers hopped into their time machine this week and shot for the stars, landing at Mars Lanes in Mars, PA. The 60-year old wood lanes are unlike any around.  They are hand-oiled without the use of modern technology.
In many sports, there is an offensive and defensive strategy. But in bowling, there is essentially no defense.  The team with best offense wins the game.  Two out of three games wins the match.  Beyond this, instead of a level playing field, one of the biggest obstacles is invisible to human eye – the oil pattern and how it changes and moves throughout the competition.
Bottom line, Mars Lanes are softer than traditional synthetic lanes. Because they are softer you need more oil to get the same skid.  If there is more oil on the lanes, then there is more oil on your bowling ball and more oil will scatter further down the lane as the match progresses.
Against all of these odds, both the Boys' and Girls' teams were ready to blast the Fightin' Planets out of orbit and out of the playoff picture. Both teams won their matches (7-0) in a commanding victory over the home team.  The Boys' and Girls' teams remain in second place in the North section of the WPIBL and in playoff contention.
The Girls' team entered the competition in a must win situation to keep their playoff hopes alive. Leading the Lady Tigers this week was freshman Lexie Robinson. This was Robinson's first time as the leadoff bowler and she took this responsibility with a steady hand rolling a 140, 153, and 150.  Sophomore Julia Jorden took on the anchor position and rolled the highest game of the day for both teams, 162.  Next week is another must win situation for the Lady Tigers, as the girls section is heating up down the stretch.
The Boys' team entered the match with a solid lock on one of the two coveted playoff spots. The Tigers put together a 734 total for the first game winning by a margin of 161 pins.  During the second game of the match, junior Alex Cook threw a 236, which ended up being the highest game bowled for the day.  Senior Griffin McVay was right behind Cook with a respectable 200.  Freshman Dylan Scheidler led all varsity bowlers with a 504 Series.  Junior Michael Lawrence had his highest series of the season.  Lawrence and sophomore Manny Merlin were the only two Tigers to master the lane conditions and able to bowl over their season averages.  The Tigers ended up beating the Planets 2430 to 1935.
The Tigers face off against Seneca Valley next week, back again at Mars Lanes. Hopefully, the second time at these lanes will promote higher scores by the Tigers.