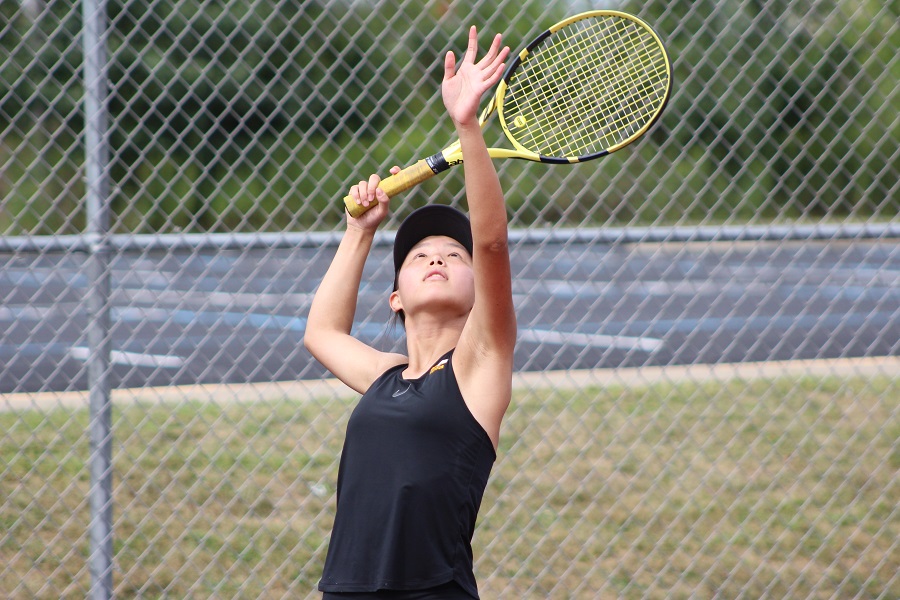 NA Lands Section Victory Over Moon, 5-0
The North Allegheny girls' tennis team hosted and defeated the Moon Tigers in the section opener on Monday afternoon, 5-0.
The No. 2 doubles pairing of Abbey Swirsding and Ashley Chung breezed to a quick 6-0, 6-0 victory over Jayna Baer and Natalie Baumgarten.  At No. 1 doubles, Claire Shao and Emily Wincko picked up a 6-1, 7-6 (7-4) win over Greer Echard and Kira Ley.
The NA Tigers had equal success in singles play as Nora Catanzarite, Ella Sinciline and Jenny Zhu picked up wins. Catanzarite defeated Amanda Koren in a hard-fought contest at No. 1 singles, 7-5, 7-5. Sinciline topped Maria Lounder at No. 2 singles, 6-3, 6-1. At No. 3 singles, Zhu vanquished Ella Patton 6-2, 6-3.
With the win, North Allegheny's third in a row, the Tigers improved to 4-2 overall and 1-0 in section play. NA will try to pick up another section win with a visit to Mars on Wednesday.
Girls Tennis Summary vs. Moon, 8-26-19
Match Summary

NORTH ALLEGHENY - 5
MOON - 0
SINGLES
#1
Nora Catanzarite (NA) def. Amanda Koren (M)
7-5, 7-5
#2
Ella Sinciline (NA) def. Maria Lounder (M)
6-3, 6-1
#3
Jenny Zhu (NA) def. Ella Patton (M)
6-2, 6-3
DOUBLES
#1
Claire Shao/Emily Wincko (NA) def. Greer Echard/Kira Ley (M)
6-1, 7-6 (7-4)
#2
Abbey Swirsding/Ashley Chung (NA) def. Jayna Baer/Natalie Baumgarten (M)
6-0, 6-0