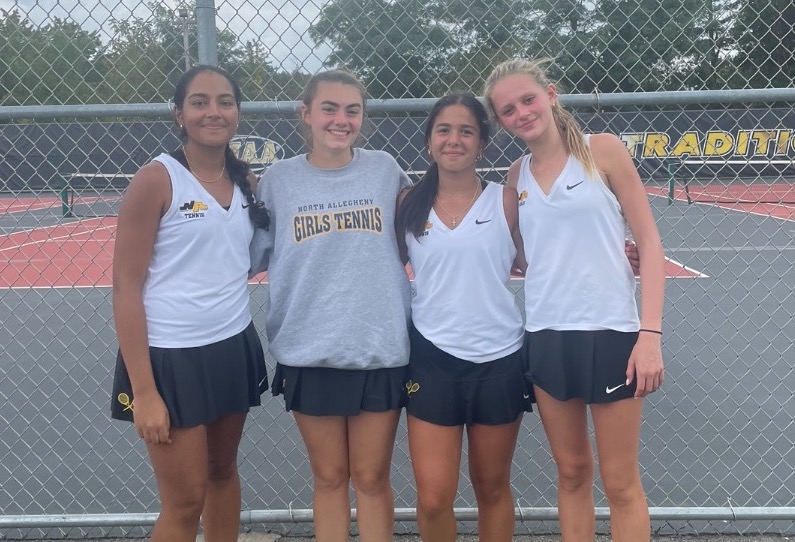 All North Allegheny Final In Section 2-AAA Doubles Championship
It was an all North Allegheny final for the Section 2-AAA doubles championship on Thursday afternoon as the No. 1 and No. 2 doubles pairings for NA competed for section gold. Top-seeded Peyton Mauser and Tia Soussou faced off against 10th-seeded Siya Jain and Rebecca Murphy for the section doubles crown. Mauser and Soussou earned the title with a 6-1, 6-2, victory. By virtue of their outstanding first and second-place finishes at the section tournament, both NA doubles teams qualify for the WPIAL Class AAA doubles tournament next week.
Mauser and Soussou opened the two-day tournament on Wednesday at NASH with a 10-2 win over Devyn Campbell and Alexis Gralewski of Shaler. The tandem of Mauser and Soussou earned a quarterfinal round victory over Sydney Blewett and Ava Neff of Moon, 10-1, to cap day one of tournament play. In the semifinals on Thursday, Mauser and Soussou picked up with their left off by earning a 6-3, 6-1, triumph over fourth-seeded Ria Khazanchi and Keira Wise of Moon. That set the stage for the title tilt against Jain and Murphy.
For Jain and Murphy, their tournament began with a 10-1 win over Sydney Bauer and Lily Wood of Butler. The NA pairing followed with a 10-5 upset over second-seeded Cece Crowley and Reese Hannah of Mars in the quarterfinals. The semifinals pitted Jain and Murphy against the sixth-seeded tandem from Pine-Richland, Deeya Nayyar and Rachel Smith. Jain and Murphy once again came out on top, 6-3, 6-4.
North Allegheny returns to section play on Monday to complete a rain-suspended match against Pine-Richland.