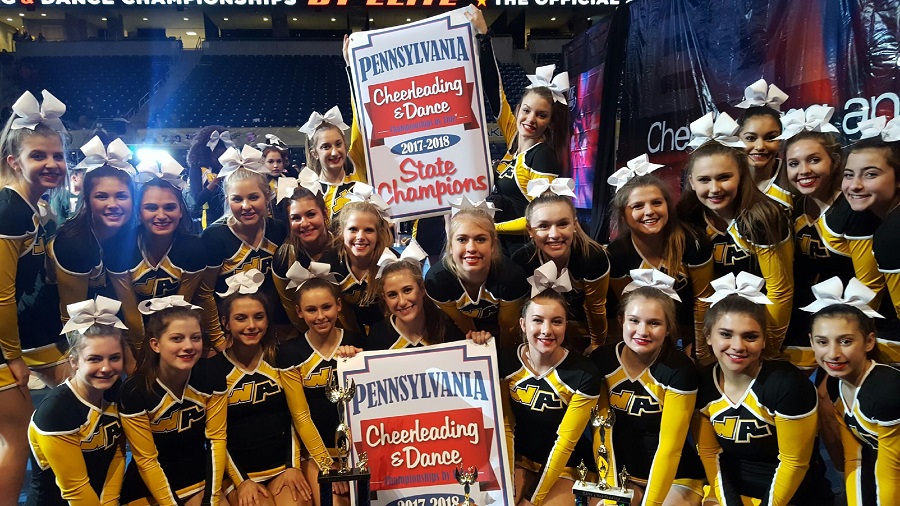 Battle of the Burgh A Big Success For NA Cheerleaders
The North Allegheny High School Varsity and JV Cheerleading squads traveled to the University of Pittsburgh on Sunday for the annual Battle of the Burgh competition. The event hosted nearly 100 cheerleading and dance teams from around Pennsylvania at the Petersen Event Center. The NA teams made a big impact in all divisions and came away with two division titles and were given various accolades from excelling in all elements of competitive cheerleading.
The NA JV team came in first place in the Junior Varsity Mount category, the NA Varsity took home another first place in the Large Varsity mount division and the NA Varsity Game Day category came in a very close second place in the Game Day division.  The Varsity squad also had the second highest overall score for the competition and were the runner-up for the Grand Champ title for the event. Overall, it was a very successful day for the Tiger cheer teams and this event builds confidence in the teams for upcoming competitions in January.
Next up, the NA Varsity competitive cheerleaders will compete for the WPIAL Championship title on January 6, 2018 in the hopes of making a sixth consecutive appearance at the PIAA State Competitive Spirit Championship.