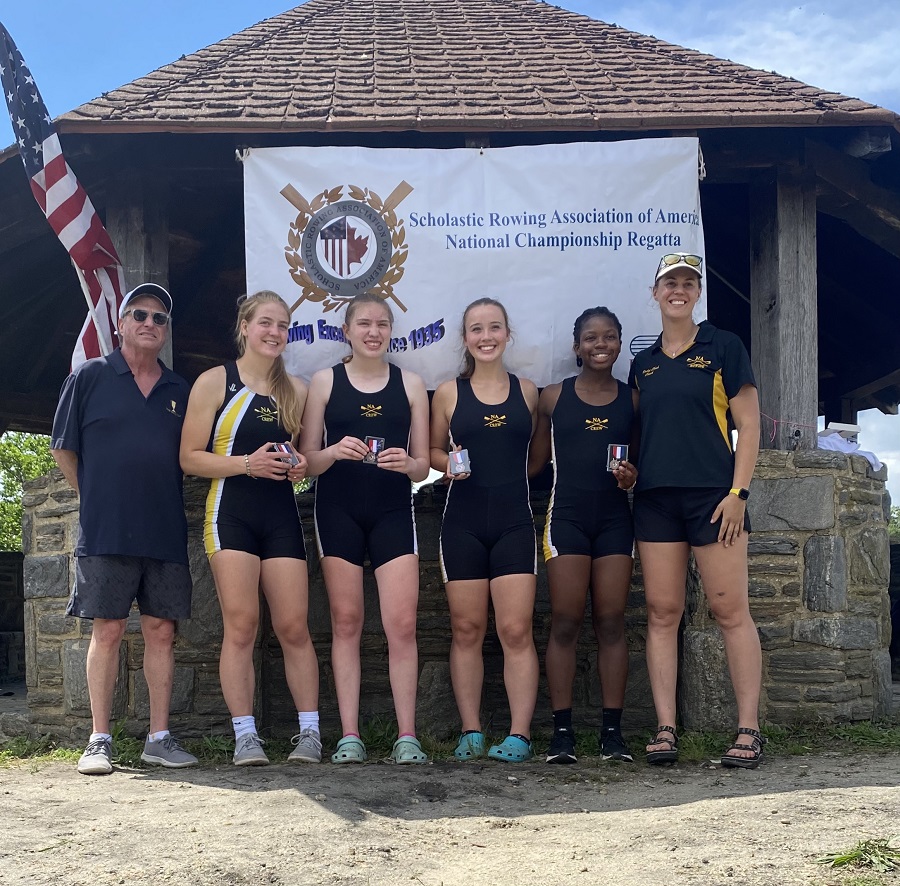 Girls Varsity 4x take Third in Nation
5/27-28 2022
SRAAs
Copper River Park, Camden NJ
Four NA lineups made their way to New Jersey this year for Scholastic Nationals, the most the Tigers have sent to the event in many years.
Friday's heats ran on a tight schedule to outpace an impending storm. The day started with the Tigers Freshmen Girls 4x posting a 4th place finish in a tough heat. The top 3 progressed to finals and so the freshman season wrapped up with a solid race against fast crews from across the nation. (Alex Witzel, Katherine Zema. Vanessa Edfors, Boe Sumerlin)
The Girls V2x of Charlotte Bentrim & Rachel Lessure. The two lightweights raced in the open category due to a paperwork issue but set a goal of holding their own and finishing off their high school career on a high note and that they did. The duo took 4th in their heat and 4th again in their semi-final the next day with an incredible final sprint beating 5th and 6th by .2 and .31 respectively. Both athletes will take this indelible spirit to their next teams as they have signed as coxswains at Drexel & Temple respectively.
The Girls Varsity 4x heat took to the course placing 2nd in their heat with the 3rd fastest time of the day in a tight field. Saturday the boat took lane 2 for the final. The entire field came down as a pack, with even the announcers declaring that it was anyone's race at the 500 to go. Finishing in an incredibly tight pack the Tigers took bronze in a race that surely came down to who was ready to sprint fully through the line. (Tabo Mkandawire, Aine Ridenour, Abigail Bakkenist, Alexandra Junko)
The Boys Varsity 4x was the Tiger's last entry for the weekend, they took 5th in the heats Friday against a deep field of fast teams. The lineup had found some significant speed together in the last couple of weeks and this weekend's racing marks the boy's team's first appearance at SRAAs since 2016.