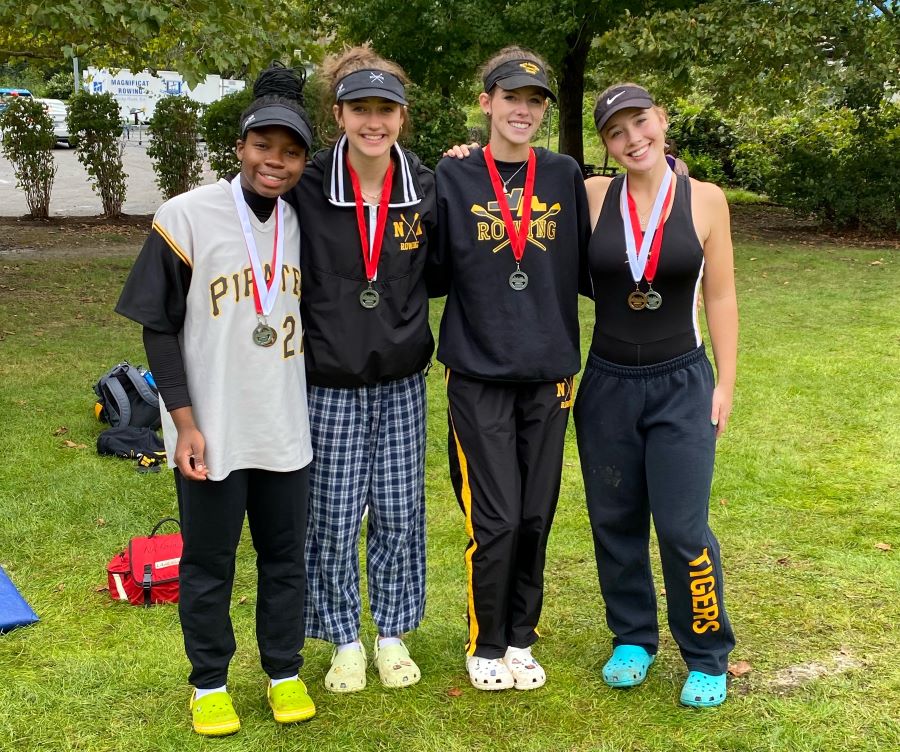 Head of the Ohio Summary
North Allegheny Rowing stayed local on 10/2/2022 to participate in hometown favorite, The Head of the Ohio Regatta hosted by the Three Rivers Rowing Association.
The Tigers earned their first of many medals of the day from the Girls Varsity 2x when Tabo Mkandawire & Aine Ridenour placed 3rd/16. The Novice Girls 2x (Maddie Rodgers & Emily DiDonato) followed suit also taking bronze in a field of 11. The Boys Novice 2x captured silver (JD Petro, Carson Carona) and the U17 boys secured bronze (Mason Pavely, Layton Wright). The Boys Novice 8+ had a strong showing taking 3rd (Roman Bellassario, Swaroop Hebbara, Cooper Lemon, Christian Sperandeo, Alex Repinski, Nolan Bunn, Charles Potter, Spencer Vincent C- Lucan Pater) and the last medal of the day, a silver, went to the Women's 4x (Tabo Mkandawire, Alex Witzel, Lorelei Schneider, Aine Ridenour).
Other highlights from the day include: The Men's Novice 4+ in 6th (Miles Rees, JD Petro, Cooper Lemon, Carson Carona C- Ava Moore)  The Women's U174+ placed 11th, (Mandy Adduci, Abby Berger, Jordan Quatchak, Grace Thomas C- Kiki Majeric.) Women's Novice 4+ 8th (Noa Adelman Madison Lambert Alexandra Edfors Natalie Helfferich C- Ava Moore) Women's 4+ 20/31 (MaryKake Griffin Sawyer Wright Athena Huber Zahra Evans C- Lauren Keyser). Women's 2x B, Addy Cooper Arshia Zaidi, 9th. Men's 2xs C&B  9th & 15th (Josh Dubovecky, Tony Bertucci & Jackson Rodgers, Zach Stamper). The Women's U17 2x placed 4th, (Alex Witzel, Lorelei Schreiber) The Women's Varsity eight finished 10th with a time of 15:19.5 (Sawyer Wright, Addy Cooper, Kathy Zema, Vanessa Edfors, Athena Huber, MaryKate Griffin, Zahra Evans, Alana Boronski – Evie Disque). Boys Varsity 4xs, 4th (Braden Lemon Zach Stamper Jackson Rodgers Caleb Sanders) and 8th (Mason Pavely Josh Dubouvecky Anthony Bertucci and Layton Wright.). Women's 4x B 8th (Alan Boronski, Katherine Zema, Arshia Zaidi, Addy Cooper)
The Tigers will be at home on October 8th to race on their home water against Pine Richland, Mt Lebo, Sylvan Scullers and Upper Saint Clair
.