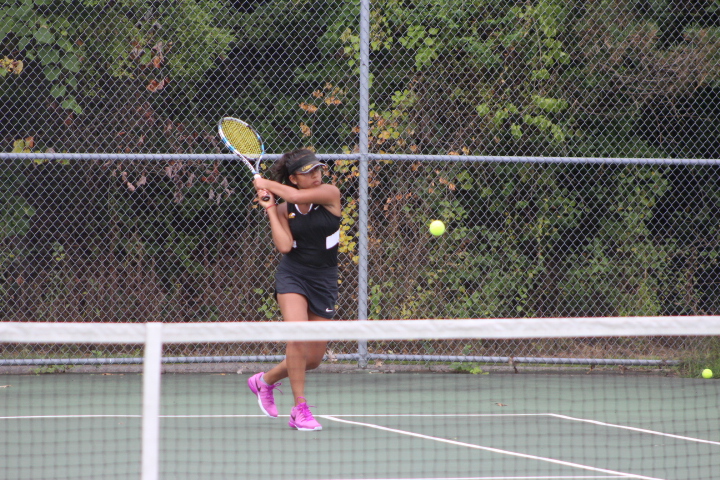 Lady Tigers Claw Past Cougars, 5-0
It was another sterling performance from the North Allegheny girls' tennis team on Thursday afternoon as the Lady Tigers laid claim to a 5-0 win over the Blackhawk Cougars in non-section action.
It was business as usual for NA in singles play with Ava Catanzarite, Ashley Huang and Rebekah Rest all earning 6-0, 6-0, victories. Similar results came from the No. 1 doubles pairing of Carolyn Tsung and Claire Shao who earned a 6-0, 6-0, triumph over Audrey Porto and Kayleigh Zagorski. The No. 2 doubles team of Katherine Ambrose and Riya Yadav tallied a 6-1, 6-0 win over Peton Landfair and Rebekah Weyend.
North Allegheny improves to 6-0 on the season and will host Butler on Tuesday at 3:30 p.m.
Girls Tennis Summary vs. Blackhawk, 8-31-17
Match Summary

NORTH ALLEGHENY - 5
BLACKHAWK - 0
SINGLES
#1
Ava Catanzarite (NA) def. Julianne Begley (B)
6-0, 6-0
#2
Ashley Huang (NA) def. Chloe Stein (B)
6-0, 6-0
#3
Rebekah Rest (NA) def. Lynell Fry (B)
6-0, 6-0
DOUBLES
#1
Carolyn Tsung/Claire Shao (NA) def. Audrey Porto/Kayleigh Zagorski (B)
6-0, 6-0
#2
Katherine Ambrose/Riya Yadav def. Peton Landfair/Rebekah Weyend (B)
6-1, 6-0