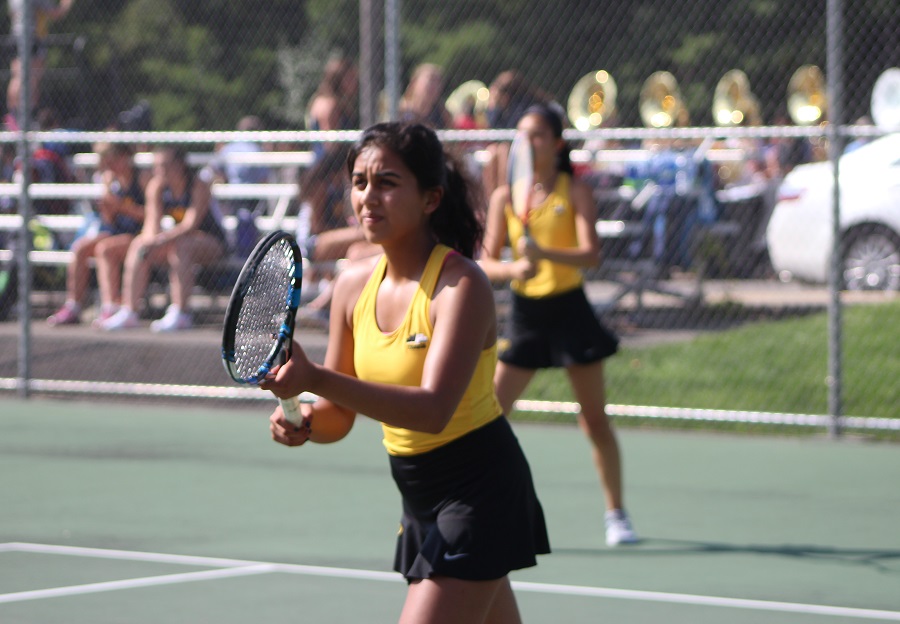 Lady Tigers Conquer Planets, 3-2
The North Allegheny girls' tennis team claimed its second straight victory, and first in section play, with a 3-2 defeat of the Mars Planets on Wednesday afternoon.
In singles action, Ella Sinciline and Jenny Zhu provided key wins. At No. 2 singles, Sinciline topped Emily Ivory by scores of 6-2, 5-7 and 6-4. At No. 3 singles, Zhu prevailed over Isabella Gaydosh, 6-1, 6-1.
The doubles team of Claire Shao and Riya Yadav earned another crucial win, vanquishing Lauren Lussier and Lauren Miko by a 6-0, 6-1, decision.
With the win, North Allegheny improves to 3-1-1 overall and 1-1 in section play. The Tigers return to action on Tuesday with a visit to Butler to face the Golden Tornado.
Girls Tennis Summary vs. Mars, 8-29-18
Match Summary

NORTH ALLEGHENY - 3
MARS - 2
SINGLES
#1
Amelia Haley (M) def. Ashley Huang (NA)
5-7, 6-4, 10-7
#2
Ella Sinciline (NA) def. Emily Ivory (M)
6-2, 5-7, 6-4
#3
Jenny Zhu (NA) def. Isabella Gaydosh (M)
6-1, 6-1
DOUBLES
#1
Claire Shao/Riya Yadav (NA) def. Lauren Lussier/Lauren Miko (M)
6-0, 6-1
#2
Emma Nelson/Maddie Lussier (M) def. Shria Moturi/Ashley Chung (NA)
6-4, 1-6, 6-2