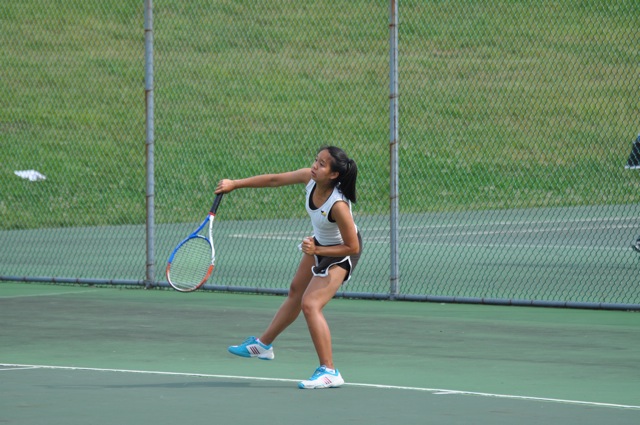 Lady Tigers Edge Rams In Section Triumph, 3-2
In a rematch of North Allegheny's closest match to date, the Lady Tigers again outlasted the Pine-Richland Rams on Friday afternoon, 3-2. Pine-Richland earned wins at #1 and #2 singles, but NA rolled off wins at #3 singles and two more in doubles competition to finish on top.  At #3 singles, freshman Tina Li blanked Angela Consiglio, 6-0, 6-0. At #1 doubles, Tristyn Maalouf and Jenn Hoffman combined for a 7-5, 6-0, win over Laura Feyer and Sarah Krause. The at #2 doubles, Sydney Boyd and Catherine Zhang defeated Amy Clarke and Miranda Kurfandski, 6-3, 6-1, to lock up the important section win.
North Allegheny remains undefeated at 15-0 overall and 12-0 in section play.  The Lady Tigers continues section action on Monday with a visit to Seneca Valley at 3:00 pm.  
Match Summary

NORTH ALLEGHENY - 3
PINE-RICHLAND - 2
SINGLES
#1
Marla Bridgham (PR) def. Maddy Adams (NA)
6-1, 6-2
#2
Yvonne Martinez (PR) def. Anna Li (NA)
6-1, 6-2
#3
Tina Li (NA) def. Angela Consiglio (PR)
6-0, 6-0
DOUBLES
#1
Tristyn Maalouf/Jenn Hofmann (NA) def. Laura Feyer/Sarah Krause (PR)
7-5, 6-0
#2
Sydney Boyd/Catherine Zhang (NA) def, Amy Clarke/Miranda Kurfandski (PR)
6-3, 6-1
EXHIBITION
Catherine Liu/Elena Kolano
6-3, 6-0