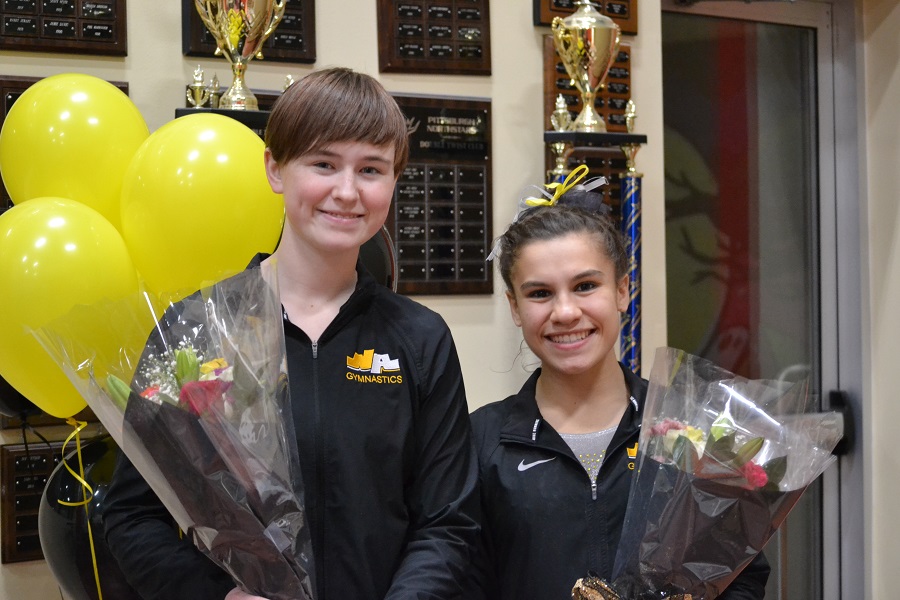 Triumphant Send Off On Senior Night
In the final meet of the regular season, the North Allegheny Tigers hosted Burrell, Montour and Chartiers Valley on senior night and earned a first-place finish with a team score of 144.45. Burrell took second with a score of 103.05, followed by Montour with an 87.95 and Chartiers Valley with a 27.2.
Junior Addie Restelli and senior Annie Haywood helped lead the Tigers to the win. Restelli totaled team-high scores in the vault and bar competitions with scores of 9.4 and 9.3, respectively. Haywood posted team-highs in the floor and beam events with scores of 9.5 and 9.6, in each. Haywood and fellow senior Tarin Wilks were recognized prior to the meet for senior night festivities. For a look at NA individual scores, click here.
With two strong performances to end the regular season, the NA gymnasts will strive for a title at the WPIAL championships on February 16-17.