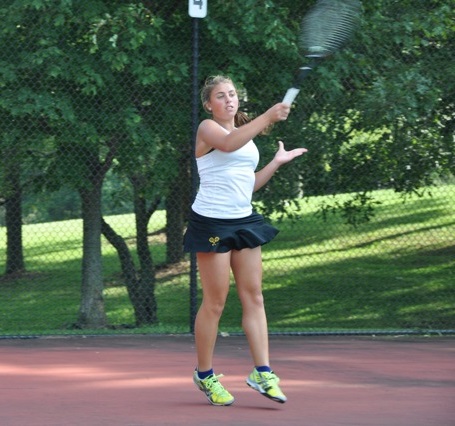 Lady Tigers Scratch Past Shady Side Academy, 5-0
North Allegheny earned a hard fought 5-0 victory in a tough non-section test with Shady Side Academy on Tuesday afternoon. Shady Side's Emma Perelman took Tina Li to a 10-point tie breaker in the third set at #2 singles, and Lindsey Miller did the same against NA's Eugenia Lee at #3 singles, but both Lady Tigers thwarted their opponents to triumph in the third set.  At #1 singles, Anna Li topped Ananya Dua by a score of 6-2, 2-6, 6-2.
In doubles play, Tristyn Maalouf and Catherine Liu scratched past Devin Gramley and Mara Barron for a 7-5, 6-3, win.  At #2 doubles, Sydney Boyd and Catherine Zhang delivered a 6-3, 6-1, win over Maria Jovin and Sonya McLaughlin.
Despite Shady Side's determined effort, North Allegheny remained undefeated and improves to 11-0 overall. The Lady Tigers return to action Friday with a non-section road contest against Fox Chapel. In the meantime, Section 2-AAA singles champ Anna Li, and third place winner Eugenia Lee, will compete in the WPIAL Singles Tournament on Wednesday and Thursday of this week.
Match Summary

NORTH ALLEGHENY - 5
SHADY SIDE ACADEMY- 0
SINGLES
#1
Anna Li (NA) def. Ananya Dua (SS)
6-2, 2-6, 6-2
#2
Tina Li (NA) def. Emma Perelman (SS)
2-6, 6-2, 11-9
#3
Eugenia Lee (NA) def. Lindsey Miller (SS)
6-7 (11-13), 7-6, 10-6
DOUBLES
#1
Catherine Liu/Tristyn Maalouf (NA) def. Devin Gramley/Mara Barron (SS)
7-5, 6-3
#2
Sydney Boyd/Catherine Zhang (NA) def. Maria Jovin/Sonya McLaughlin (SS)
6-3, 6-1