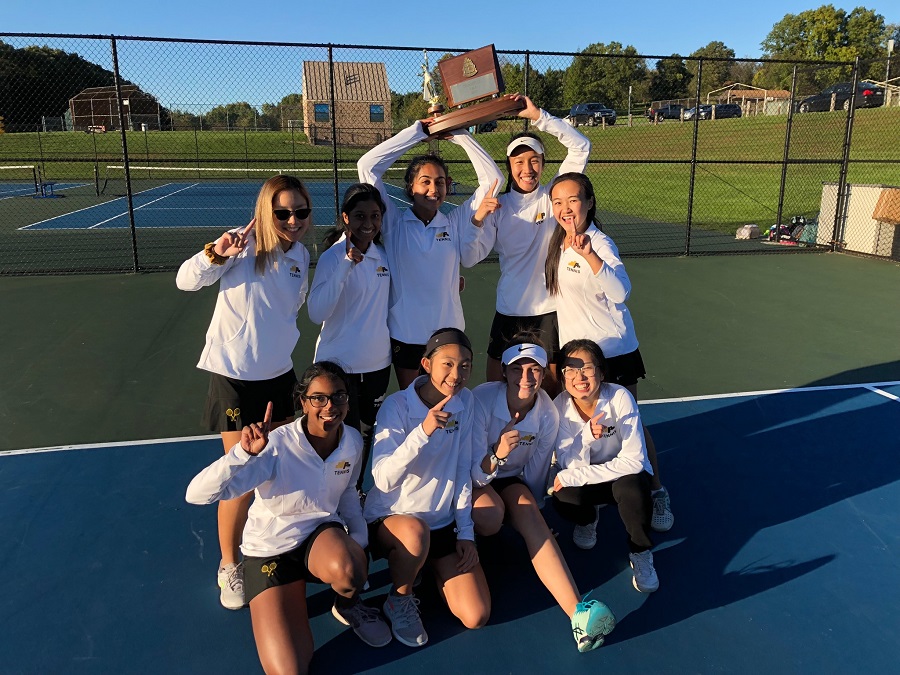 Lady Tigers Secure 6th Consecutive WPIAL Title
The North Allegheny girls' tennis team captured an astonishing sixth straight WPIAL Class AAA championship on Thursday afternoon with a 3-2 victory over Shady Side Academy. What makes this crown most impressive is that NA did it after three potential returning starters did not come back for the 2018 season. Head coach Michelle Weniger retooled and the Lady Tigers displayed great resolve to extend North Allegheny's streak of WPIAL titles.
Senior captain and Cornell University commit Ashley Huang set the tone and earned an important win at No. 1 singles with a 7-5, 6-1 decision over Shady Side's Elle Santora. Sophomore Jenny Zhu provided a 6-4, 6-0 sweep of Arianna Goitz at No. 3 singles. In double play, juniors Shria Moturi and Ashley Chung delivered a 6-4, 7-5 triumph over Renee Long and Avery Guyoux to ensure the WPIAL crown for the Tigers.
The Tigers have the third-longest streak in the WPIAL girls' tennis history behind only Mt. Lebanon (1981-88) and Upper St. Clair (1994-2001) who each won eight consecutive titles.
North Allegheny improves to 14-2-1 on the season and advances to the PIAA tournament next week.
Girls Tennis Summary vs. Shady Side Aacademy, 10-18-18
Match Summary

NORTH ALLEGHENY - 3
SHADY SIDE ACADEMY - 2
SINGLES
#1
Ashley Huang (NA) def. Elle Santora (SSA)
7-5, 6-1
#2
Aya Youssef (SSA) def. Ella Sinciline (NA)
6-2, 6-4
#3
Jenny Zhu (NA) def. Ariana Goitz (SSA)
6-4, 6-0
DOUBLES
#1
Isha Reddy/Paige Golden (SSA) def. Claire Shao/Riya Yadav (NA)
6-3, 2-6, 6-2
#2
Shria Moturi/Ashley Chung (NA) def. Renee Long/Avery Guyouox (SSA)
6-4, 7-5