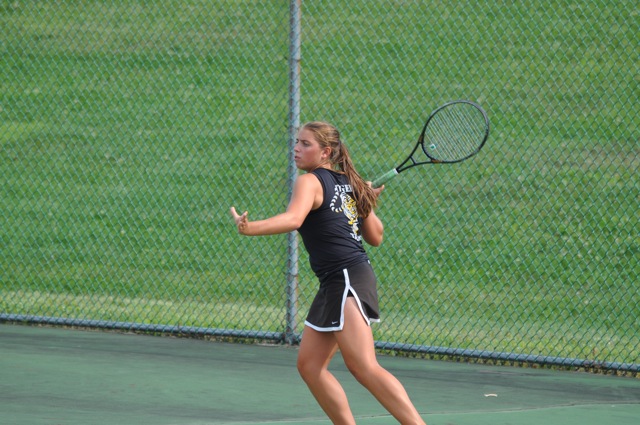 Lady Tigers Soar Over Moon 5-0
The North Allegheny Lady Tigers are now 16-0 overall and 9-0 in Section 2 play.  Today's 5-0 victory over Moon sealed an undefeated Section 2 record for the season. Clearly one of the best teams in the WPIAL the Tigers should expect a great seed in the coming WPIAL playoffs next week. They have 2 more non section matches and the WPIAL individual doubles tournament to keep the momentum rolling into the playoffs.
In what was another exhibition of this squad's ability to maintain focus and play their match the Tigers made straight set work of Moon across the board.  Anna Li and Tina Li continued to execute at #1 and #2 singles respectively.  Playing #3 for North Allegheny was Trystan Maalouf who won 6-0, 6-3.  Catherine Liu and Sydney Boyd continued their run at #1 doubles 6-0, 6-0. Elana Kolano teamed with Catherine Zhang at #2 doubles for the 6-0, 6-0 victory. That match capped a perfect run through Section 2 for the 2014 season.
North Allegheny will face Oakland Catholic tomorrow at Frick Park at 3:30pm as they await their match up in WPIAL playoffs.
Match Summary

NORTH ALLEGHENY - 5
Moon - 0
SINGLES
#1
Anna Li (NA) def. Cam Beer (M)
6-0, 6-1
#2
Tina Li (NA) def. Erika Fernau (M)
6-1, 6-0
#3
Tristyn Maalouf (NA) def. Olivia Napoleone (M)
6-0, 6-3
DOUBLES
#1
Catherine Liu/Sydney Boyd (NA) def. Lexi Ciccone/Rachael Letterman (M)
6-0, 6-0
#2
Elana Kolano/Catherine Zhang (NA) def, Audrey Kanenski/Amanda Friello (M)
6-0, 6-0