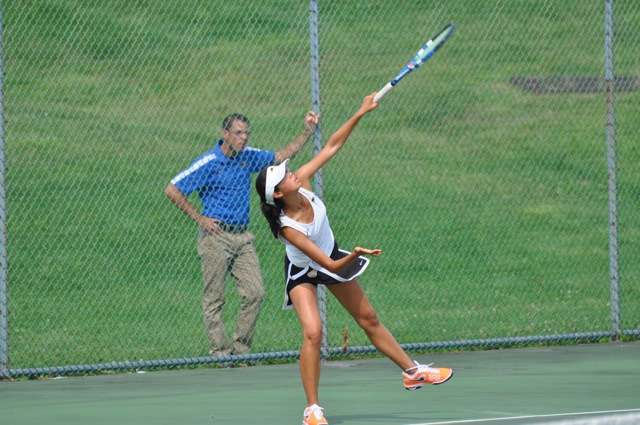 Lady Tigers Tennis Batters Butler
The North Allegheny Girls Tennis Team added another victory to the win column on Monday afternoon with a 4-1 victory over the Butler Golden Tornado.  Butler's Zoe McCafferty earned a hard fought victory at #1 singles, 0-6, 7-6 (7-2) and 10-5.  However, after that, it was all NA.  The Lady Tigers Anna Li and Tina Li swept through their opponents, 6-0, 6-0.  In similar fashion, the doubles combo of Tristyn Maalouf and Sudney Boyd, along with Catherine Zhang and Catherine Liu claimed 6-0, 6-0, wins as well.
North Allegheny advances their record to 14-0 overall and 11-0 in section contests.  The Lady Tigers will host Mercyhurst Prep in a non-section affair on Thursday afternoon at 4:00 pm.  The WPIAL Section Doubles competition will be held prior on Wednesday at noon.
Match Summary

NORTH ALLEGHENY - 4
BUTLER - 1
SINGLES
#1
Zoe McCafferty (B) def. Maddy Adams (NA)
0-6, 7-6 (7-2), 10-5
#2
Anna Li (NA) def. Maggie Moses (B)
6-0, 6-0
#3
Tina Li (NA) def. Brooke Peitie
6-0, 6-0
DOUBLES
#1
Tristyn Maalouf/Sydney Boyd (NA) def. Olivia Girdono/Emma Bresknsky (B)
6-0, 6-0
#2
Catherine Zhang/ Catherine Liu (NA) def, Bella Smith/Tessa Klotz (B)
6-0, 6-0