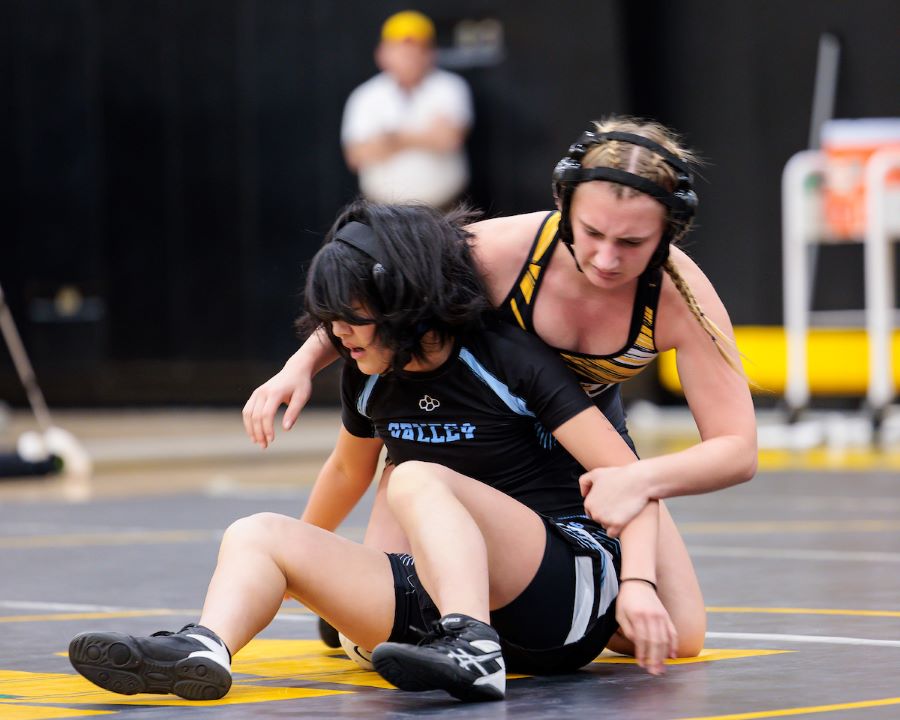 Lady Tigers Top Scotties, 35-30
The North Allegheny girls' wrestling team faced off against Southmoreland in the final dual meet of the regular season and defeated the visiting Scotties, 35-30, at UPMC Court. The victory atoned for an earlier defeat to Southmoreland on Jan. 25.
It was also senior night at NASH and senior grappler Callie Rautenbach was honored prior to the dual meet. Once underway, the Tigers and Scotties battled in a back-and-forth contest throughout the night.
Tied 24-24 with three bouts remaining, North Allegheny seized the lead thanks to a win by fall courtesy of sophomore Brenna Collery over Brenna Ice for a 30-24 lead. The Tigers put the meet away when freshman Sophia Folks earned a convincing victory by tech fall, 28-12, over Rylee Mains to balloon the NA advantage to 35-24.  The win by Folks, her second of the night, clinched the dual meet. Folks' two victories also earned her Wright Automotive Wrestler of the Night honors.
Along with Folks, junior Leyna Rumpler posted a pair of wins by fall. Junior Audrey Morrison also tallied a win by fall over Lilly Wasmund in 1:06.
North Allegheny leaps to 5-2 on the season with the victory over Southmoreland. The Tigers will prepare next for the Pennsylvania Regional Tournament on Sunday, March 5.
Girls Wrestling Match Summary: NA vs. Southmoreland
| Wrestlers | Score |
| --- | --- |
| Taryn Hollis (SM) pinned Ava Frailey (NA) | 1:10 |
| Leyna Rumpler (NA) pinned Kaitlyn Ice (SM) | 1:33 |
| Audrey Morrison (NA) pinned Lilly Wasmund (SM) | 1:06 |
| Zoe Murphy (SM) pinned Amya Sanford (NA) | 4:24 |
| Sophia Folks (NA) pinned Taylor Chambers (SM) | 0:33 |
| Faryn DeWitt (SM) pinned Ava Anthony (NA) | 1:39 |
| Leyna Rumpler (NA) pinned Taryn Hollis (SM) | 1:08 |
| Zoe Murphy (SM) pinned Kaylee Dean (NA) | 2:22 |
| Brenna Collery (NA) pinned Brenna Ice (SM) | 1:54 |
| Sophia Folks (NA) tech fall Rylee Mains (SM) | 28-12 |
| Taryn Hollis (SM) pinned Callie Rautenbach (NA) | 5:33 |