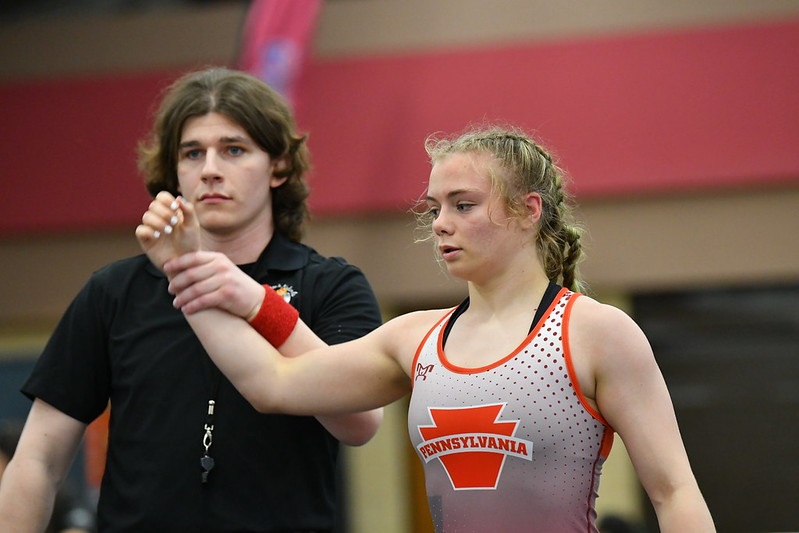 Leyna Rumpler finishes Top 12 at USA World Team Trials
Sophomore Leyna Rumpler traveled to Fort Worth, Texas this past weekend to wrestle for a spot on the U17 Pan American & World Teams for the United States at the 2022 USMC Women's National Championships. Rumpler was one win away from placing and finished in the top 12 in her first ever Women's Nation Championship appearance.
In the Round of 32, Rumpler picked up a 10-0 Technical Fall in 1:28 over Jessie Box of Coyote Wrestling Club. That set up a round of 16 matchup against No. 28 nationally-ranked Cloe Charlesworth from Wyoming Seminary. Charlesworth jumped out to an early 2-0 lead. After a restart, Rumpler was able to lock up a throw and get the fall to advance to the quarterfinals. Her quarterfinal opponent was No. 22 nationally-ranked Lizzie Shunn from Eagle Mountain, Utah. Shunn would pick up a first period fall against Rumpler and continue on to claim the Title and USA World Team Spot. Rumpler then lost her final match to No. 17 nationally-ranked Charlotte Gilfoil of Wyoming Seminary, who finished seventh.
Results can be found here: https://arena.flowrestling.org/event/ada5058d-9311-a401-df84-5c7391d9b543