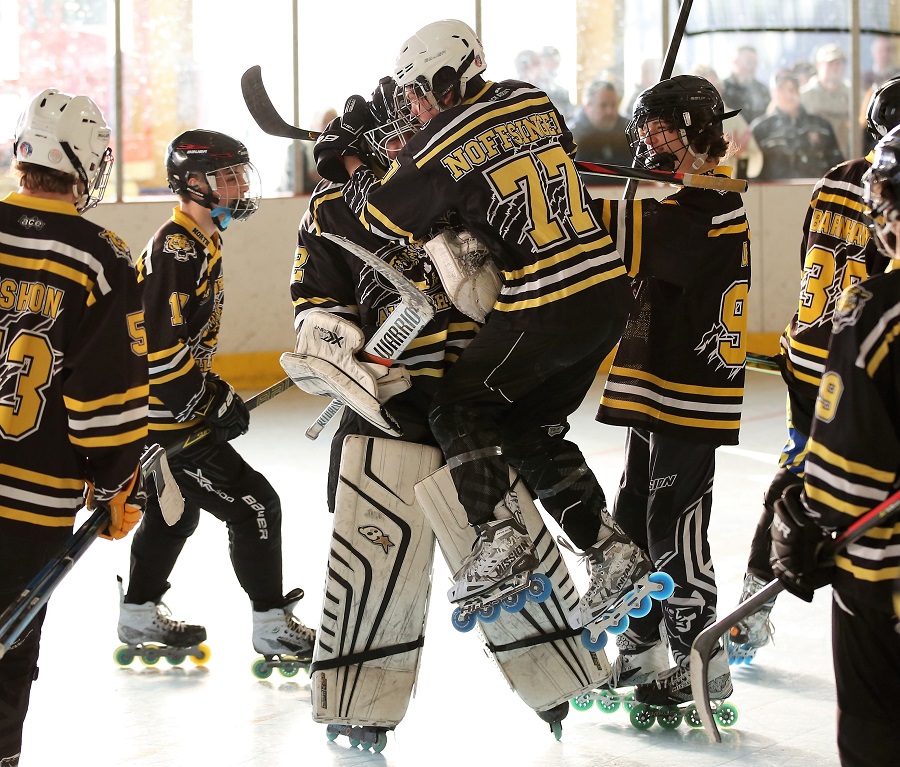 NA Advances To PIHRL Championship With 8-1 Win Over USC
The North Allegheny Tigers defeated the Upper St. Clair Panthers in the PIRHL semifinal on Sunday by a score of 8-1, earning them a spot in the inline championship series.
Period one was a defensive battle.  The Tigers got on the board first with a goal by junior Brett Baker, assisted by senior Robby Kushon.
The Panthers started the second period on the power play.  After holding the Panthers scoreless for the penalty, junior Evan Barnhart found Baker who notched his second goal for the day.  The scoring continued with a goal by Kushon, assisted by Baker to close out the period with the Tigers leading 3-0.
In the third period, the Tigers continued their offensive dominance.  Starting with an unassisted goal by Kushon and sophomore Aiden Noffsinger, assisted by Baker.  Adding to the scoring was Barnhart, junior Kyle Tomino and once again a goal by Baker to complete his hat trick.  The Panthers managed one goal of their own in the third, posting the final score with the Tigers on top 8-1.  Sophomore goalie Mitchell Ludwick earned the win.
The Tigers will advance to the PIRHL championship three game series against the Pine Richland Rams.  The first game will be played next Sunday, March 6, at 5:00 at the RMU Island Sports Center.