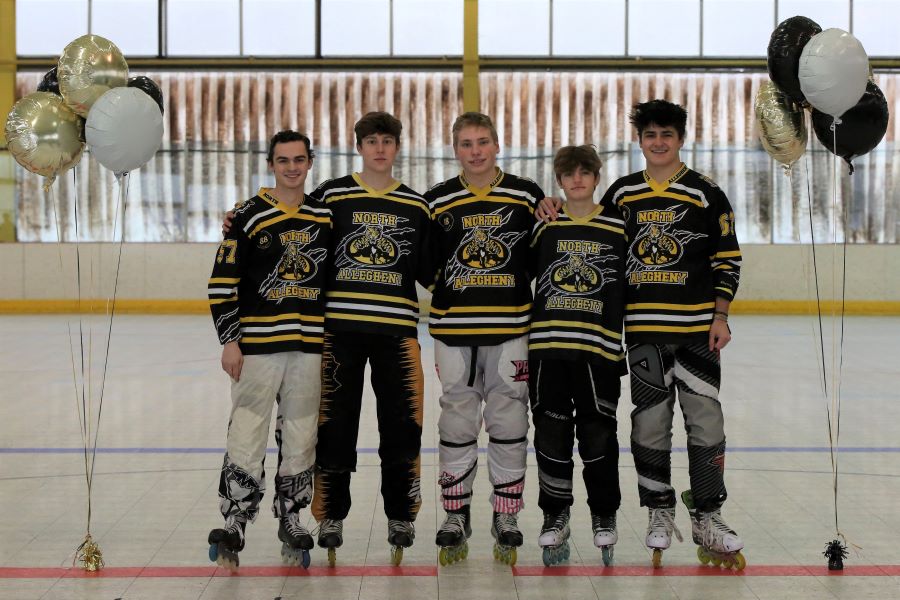 NA Blanks Shaler On Senior Day, 7-0
The North Allegheny Tigers blanked the Shaler Titans by a score of 7-0 for a Senior Day victory at the RMU Island Sports Center.
The Tigers started off with a strong first period as four different Tigers notched a goal. Junior Logan Cerqua initiated the scoring followed by senior Evan Barnhart, junior Aidan Anthony and senior Brett Baker, ending the frame with the Tiger up 4-0.
The second period was more of a defensive effort by both sides as the Titans held the Tigers to just one goal by Baker.  With the intensity level rising in the third period, the Tigers continued the offensive threat by adding two additional goals to the score sheet.  Baker, once again led the way, tallying his third goal of the day for the hat trick as junior Jacob Rice rounded out the day with a goal of his own.
Junior goalie Mitchell Ludwick earns the win as the Tigers improve their record to 15-0.  They will resume play against Penn-Trafford next Sunday at 9:00 AM at the RMU Island Sports Center.
Congratulations and best of luck to the Seniors, Brett Baker, Evan Barnhart, Joel Blaha, Evan Mark and Kyle Tomino.