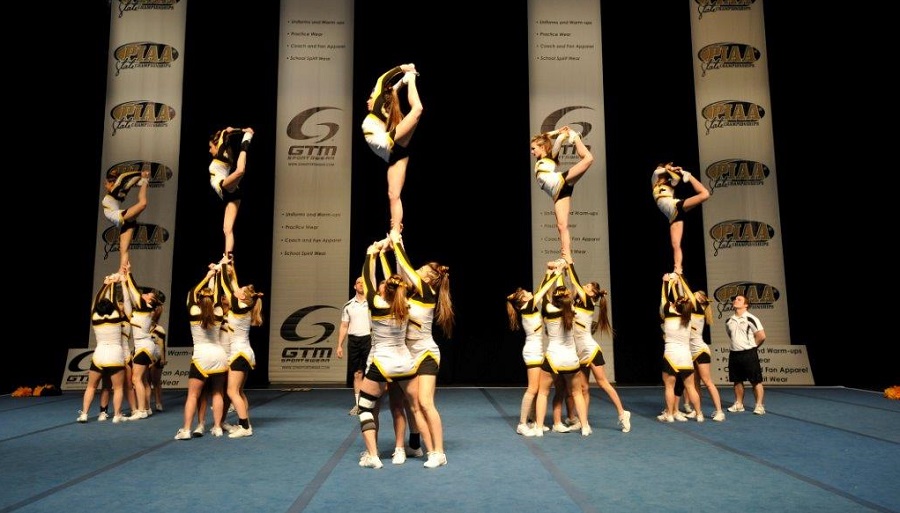 NA Cheerleaders Return To Finals In PIAA Tournament
The NA Varsity competition team traveled to Hershey for the 2015 PIAA Competitive Spirit Championship on January 23rd – 24th.   The event was held at the Giant Center and housed the top 118 teams from around the state of Pennsylvania.  Teams qualified from all 12 Districts in PA in the hopes of returning the state title to their school.  All preliminary rounds were held on Friday, January 23rd and the Semi-Final and Final rounds were held on January 24th.   For each division, the top 25% of teams from the preliminary round advanced directly into the FINALS with the next 25% of teams advancing to the Semi-Final round for a shot at Finals.
The NA Varsity team had an outstanding performance in the preliminary round scoring in the Top 4 on Day 1 and was announced as going directly into Finals.   The team performed a near flawless routine and was excited to advance to the difficult final round.
In the Final round of the tournament, the NA Cheerleaders performed well despite some minor mistakes.  All teams in the Large Varsity finals were talented and several among the top teams in the country.  With outstanding support from NA fans and family, the NA cheerleaders were proud to finish 6th overall in the PIAA state tournament.  This was the 3rd year in a row that the NA Cheerleaders were finalists in the PIAA tournament.
The NA Varsity competition team will travel to Orlando, FL for UCA High School Nationals for their final competition of the season.   With several outstanding performances this season, the team is feeling confident about being successful at Nationals.
The team will be hosting a "Send-off Performance" for all friends and family of the local teams attending Nationals.  For all those who wish to attend, the event will be held on Monday, February 2nd, 2015 at 7:00pm.