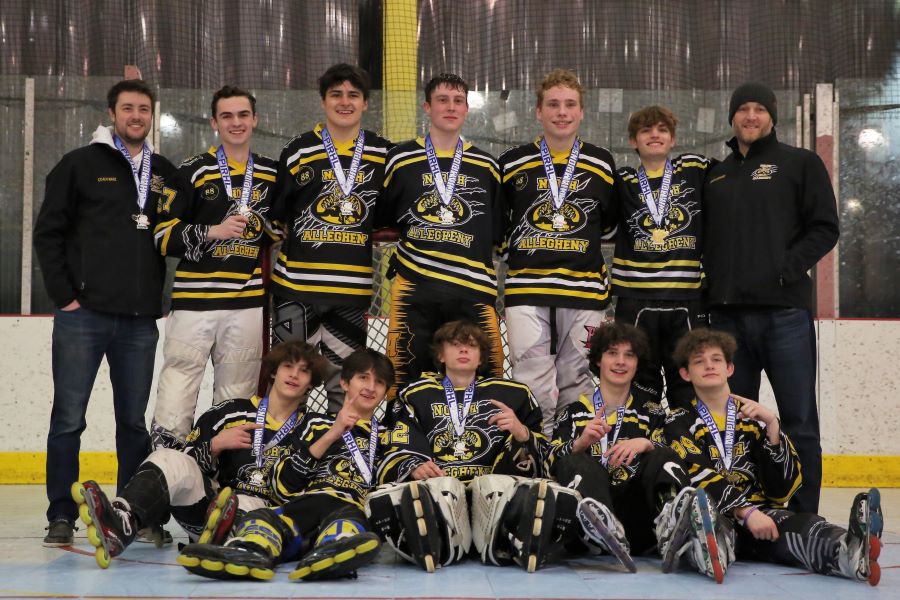 NA Claims PIRHL Crown With 5-4 Win Over Penn-Trafford
The North Allegheny inline team held on to a 5-4 victory over the Penn Trafford Warriors to claim the PIRHL Championship on Saturday night at the RMU Island Sports Center.
It was a hard-fought game with multiple lead changes but the Tigers prevailed in an exciting championship contest. The first period saw the Warriors come out aggressively with fast-paced play and struck first offensively. The Tigers answered the call with two goals of their own, one by junior Logan Cerqua and the second by senior Brett Baker, assisted by junior Declan Dadey, ending the frame with North Allegheny up, 2-1.
The second period saw much of the same high-energy play by both teams with the Warriors notching three goals and the Tigers claiming one of their own with a goal by senior Evan Barnhart, assisted by Baker, ending the second with the Warriors up by a score of 4-3.
In the third period, while holding the Warriors scoreless, it was the Tigers on the offensive charge.  Goals by Barnhart and the game-winning goal by senior Kyle Tomino, assisted by Dadey, proved to be too much for the Warriors and the Tigers claimed the championship victory.
Junior Mitchell Ludwick was a force in the net and earned the win as the Tigers wrap up the year with a 20-1 record.  Over the course of the season, the Tigers held their opponents to a total of 41 goals while scoring an impressive 151 of their own.
Congratulations to Coach Manz, Coach Anthony and the entire North Allegheny inline team on a spectacular and memorable season.