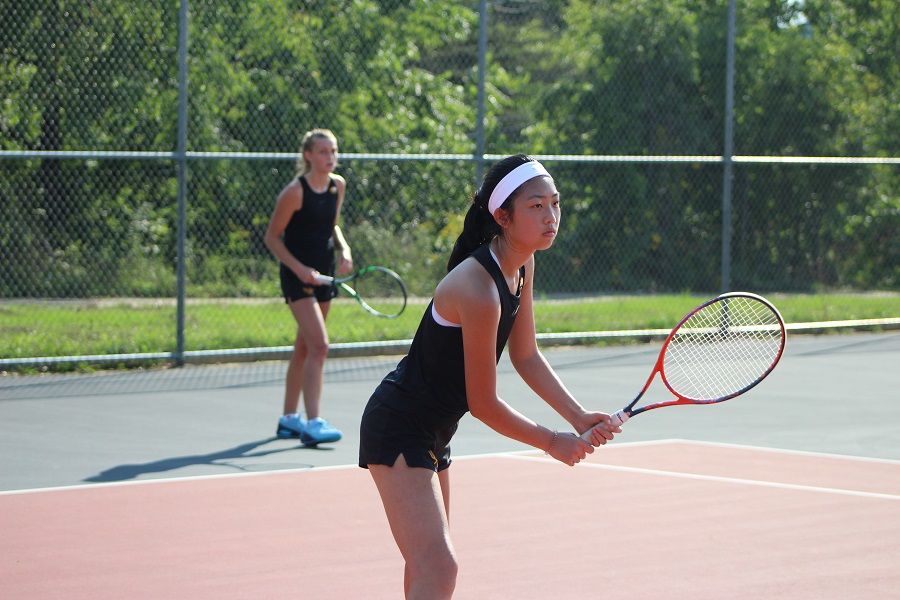 NA Edged By Top-Seeded Peters Township, 3-2
Facing off against top-seeded Peters Township, the North Allegheny girls' tennis team nearly pulled off the upset and were narrowly defeated by the Indians, 3-2, on Thursday afternoon in the WPIAL quarterfinals.
The Tigers swept doubles play and need only one win in singles to earn the upset. Unfortunately, Peters Township won all three singles matchups for the 3-2 decision.
For North Allegheny, the black and gold was helped by the No. 1 doubles performance of Abbey Swirsding and Claire Shao, who defeated Bella Engelberg and Grace Solus, 6-3, 6-2. At No. 2 doubles, Rebecca Kolano and Siya Jain topped Maddie Mackay and Abby Siconolfi in three sets.
The season concludes for North Allegheny with a 7-7 overall record. Congratulations to head coach Michelle Weniger and the Lady Tigers for another terrific season.
Girls Tennis Summary vs. Peters Township, 10-15-20
Match Summary

PETERS TOWNSHIP - 3
NORTH ALLEGHENY - 2

SINGLES
#1
Kat Wang (PT) def. Jenny Zhu (NA)
6-2, 6-0
#2
Mara Bruce (PT) def. Emily Wincko (NA)
6-0, 6-0
#3
Adisyn Moorehead (PT) def. Claire Zheng (NA)
6-2, 6-1
DOUBLES
#1
Claire Shao/Abbey Swirsding (NA) def. Bella Engelberg/Grace Solus (PT)
6-3, 6-2
#2
Rebecca Kolano/Siya Jain (NA) def. Maddie Mackay/Abby Siconolfi (PT)
6-2, 4-6, 6-4