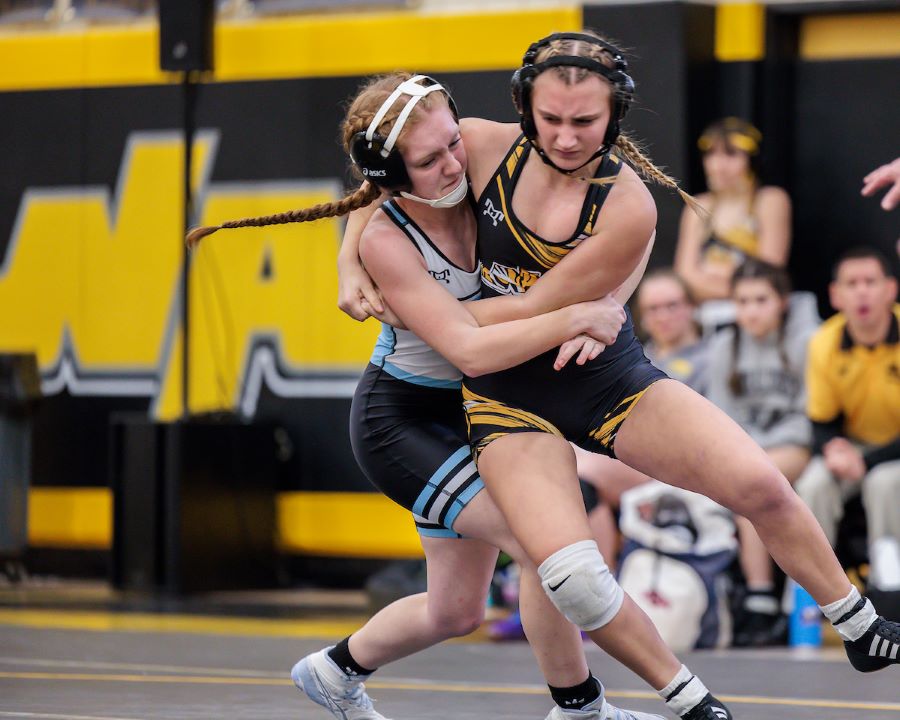 NA Edged In Hard-Fought Meet At Southmoreland, 31-28
The North Allegheny girls' wrestling team traveled to Southmoreland on Wednesday night and fell in a hard-fought contest, 31-28.
The Scotties took an early 15-6 lead through four bouts and staved off a furious rally by the Tigers down the stretch. Leading 25-22 with two bouts remaining, Southmoreland clinched the dual meet with a win by fall from Zoey Murphy at 235 pounds.
North Allegheny provided several stellar performances on the evening, including wins by fall from Sophia Folks (130), Audrey Morrison (142), Leyna Rumpler (155) and Amya Sanford (235). Senior Callie Rautenbach earned a 12-3 major decision over Lilly Wasmund at 148 pounds to add to NA's point total. A detailed look at the meet results are below.
The Tigers return to action on Saturday with a visit to Ohio to take part in the Lady Raiders Wrestling Invitational at Columbia High School in Ohio.
Girls Wrestling Match Summary: NA vs. Southmoreland
| Weight | Wrestlers | Score |
| --- | --- | --- |
| 118 | Taylor Chambers (SOUT) pinned Isabella Cuomo (NA) | 0:40 |
| 118 | Rylee Mains (SOUT) pinned Isabella Cuomo (NA) | 2:41 |
| 130 | Sophia Folks (NA) pinned Faryn DeWitt (SOUT) | 2:41 |
| 136 | Faryn DeWitt (SOUT) dec. Brenna Collery (NA) | SV-1, 5-3 |
| 142 | Audrey Morrison (NA) pinned Lilly Wasmund (SOUT) | 1:24 |
| 142 | Kaitlyn Ice (SOUT) maj. dec. Ava Frailey (NA) | 14-4 |
| 148 | Callie Rautenbach (NA) maj. dec. Lilly Wasmund (SOUT) | 12-3 |
| 148 | Taryn Hollis (SOUT) pinned Maya Scott (NA) | 3:33 |
| 155 | Leyna Rumpler (NA) pinned Taryn Hollis (SOUT) | 0:21 |
| 235 | Zoey Murphy (SOUT) pinned Kaylee Dean (NA) | 5:31 |
| 235 | Amya Sanford (NA) pinned Zoey Murphy (SOUT) | 3:21 |