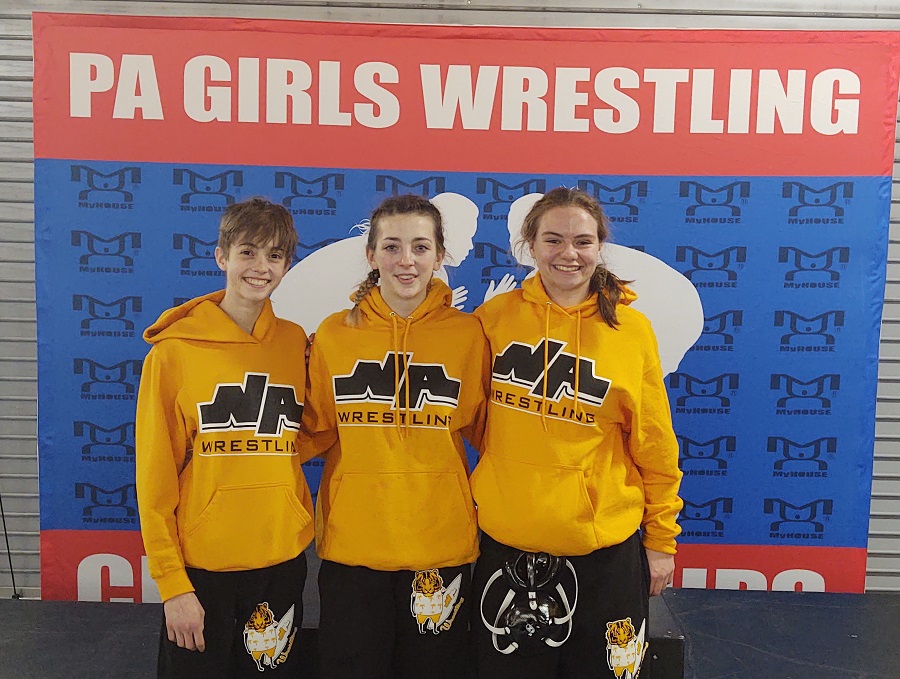 NA GIRLS CONCLUDE INAUGURAL SEASON AT STATE CHAMPIONSHIPS
(3/24/21) The NA Girls Wrestling team traveled to Manhiem, PA this past weekend to compete at the MyHouse PA Girls HS State Wrestling Championships. A total of 110 high school girls from across the state competed and marked the first time that officially approved girls teams from PIAA High Schools competed at the Championships. This also concluded the very first year for the Girls Varsity program at North Allegheny.
The Tigers were led by an 8th place finish by freshman Leyna Rumpler at 147 pounds. She started off the day strong, taking a 2-0 lead over Kylie Monroe from Gettysburg into the second period. However Monroe would pick up the fall for the win late in the 2nd period. After receiving a bye in the first round of the consolations, Leyna faced off against Easton senior, Tracy Charles. Rumpler wasted no time securing the takedown and picking up the fall in 32 seconds to advance. In the next round Leyna faced Mia Bumbarger, a junior from Pottstown. Bumbarger came into the tournament having pinned Leyna earlier in the year and also finished with a 4-5 record in boys varsity action. Leyna looked to have flipped the script with a first period takedown and an escape in the second period to take a 3-0 lead. Unfortunately, Bumbarger locked up a throw and was able to secure the pin to end the tournament for Rumpler.
At 101 pounds, sophomore Hannah Williams dropped her first match by fall to senior Karleigh Steiner of Saegertown, who finished 2nd and was also the runner up at District 10 AA Boys sectional tournament. In William's next match she found herself losing 11-0 to Leeah Eisenhower of Central Mountain. Determined to not give up, Hannah battled back, but ultimately fell by decision 12-5.
Junior Taylor Stover, 122 pounds, jumped out to a 2-0 lead in her first match against freshman Gisele Ramirez of Souderton before getting pinned in the second period. Ramirez eventually placed 6th. In Stover's final match she lost by fall to senior Zoe Earle of Pottstown.
All three girls had a very successful first season for the girls wrestling team and look forward to building on the momentum for next year.